Dark Age
(1988)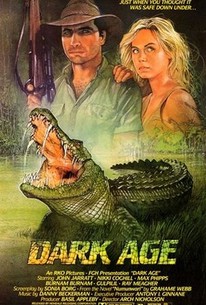 Movie Info
Dark Age could also be titled The Dark Side -- of Crocodile Dundee, that is. This Australian action-packed thriller concerns the illegal hunting of crocodiles in the outback. But you'll find no Paul Hogan or (worse luck) Linda Kozlowski this time. Instead, we have a skulk-and-snap chiller straight out of Jaws. The action in The Dark Age is very involving -- much more so than the dialogue, which is obscured by the actors thick Aussie dialects.
Critic Reviews for Dark Age
Audience Reviews for Dark Age
½
There has been so many rip offs of Jaws since its release in 1975 that many animals and other creatures have been used as a plot device to terrorize the inhabitants of a town whether it's on sea or land. With Dark Age, the sinister beast is a giant crocodile that wrecks havoc. This is a good movie that takes place in the Australian outback. John Jarrat (who would later play the villain in Wolf Creek) stars as Steve Harris, the ranger tasked with hunting the giant croc. This is a well thought out creature feature that has a good plot and effective acting to keep you interested. However this is an overlooked gem, as many other croc themed films have surfaced since, and this one is kind of a forgotten low budget B movie. The film relies on a good sense of atmosphere and slow pacing to steadily build up the fear and dread in the viewer. Director Arch Nicholson crafts a very good pulse pounding nature gone wild film that is much darker than other films in the genre. The tone is more serious and never tongue in cheek. There are also some pretty good kill scenes and the croc has a serious appetite and feeds on just about anything. I thoroughly enjoyed this film, and I think it is a standout film in the genre with a good plot, good acting and a dark, ominous score that adds to the experience, you owe it to yourself to check this film out as it is a smartly crafted horror film that just doesn't go right into the action, but slowly builds up the fear right up till the first kill. There have been quite a few croc films, but I have to say that Dark Age is one of the best that I have seen.
Dark Age Quotes
There are no approved quotes yet for this movie.