The Dark Corner
(1946)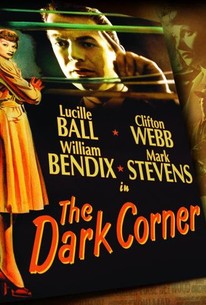 Movie Info
Brad Galt (Mark Stevens) is a bitter ex-con, turned private eye, who depends upon his faithful secretary Kathleen (Lucille Ball) to keep his life in order. Hardy Cathcart (Clifton Webb) -- upon learning that his wife Mari (Cathy Downs) is having an affair with Galt's crooked former partner, Tony (Kurt Kreuger) -- has his henchman kill Tony and frame Brad for the murder. Suspected by the police and on the run, Brad is helped to clear himself by Kathleen. The ending of the film has an interesting twist as Brad confronts Cathcart in his art museum, and Cathcart confesses to being responsible for the murder of Tony. Expertly directed by Henry Hathaway, and with characteristically excellent performances by Clifton Webb and William Bendix, the tense mood of the film is greatly aided by the superb, dark photography of Joe MacDonald, grim darkness becoming the pervasive motif of Brad's predicament. The ending, nicely melodramatic, is a fitting finale for this enjoyable, extremely watchable mystery.
Critic Reviews for The Dark Corner
Audience Reviews for The Dark Corner
Standard noir about a twice framed private eye (Mark Stevens) with all the usual suspects: the muscle (William Bendix), the brains: (Clifton Webb) and the beauty (Cathy Downs). The difference here is the curve: Lucille Ball. As secretary/love interest/eye candy to the gumshoe ... it almost seems as if her part were added on. Some trying-to-be-hardboiled-like-Dashiell-Hammett-would-write dialogue don't help none and often adds the unintended air of comic spoof of the genre, overcome in the closing third of the piece. Watchable one time.
Kevin M. Williams
Super Reviewer
Except for a few good dialogues, the movie has nothing in its favor. It's heavily predictable & short of twists for a film-noir, and lacks the execution that keeps you hooked in a thrilling crime drama. Avoidable as watchable.
familiar stranger
Super Reviewer
½
It's hard for a film to be dark and foreboding when Lucy is around, she sparkles far too much for film noir. Her gams may say Double Indemnity but her personality screams Duck Soup.
Randy Tippy
Super Reviewer
The Dark Corner Quotes
There are no approved quotes yet for this movie.