Dark Corners
(2006)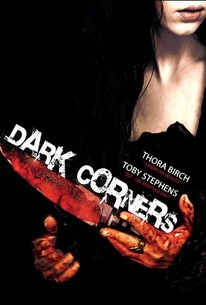 AUDIENCE SCORE
Critic Consensus: No consensus yet.
Movie Info
Nightmares blend with dreams to offer a surreal and terrifying portrait of one woman's rapidly deepening psychological malaise in first-time writer/director Ray Gower's tale of a troubled young woman pursued by malevolent creatures led by a mysterious villain known as Needletooth. Upon awakening to the shriek of her alarm clock in the early hours of the morning, Karen Clarke (Thora Birch) gets out of bed, walks to the bathroom, and receives the shock of her life upon glancing at the mirror and discovering that she has been badly beaten. With no memory of the violent confrontation that led to her apparent pummeling and nothing but a mysterious locker key to guide her, the young mortuary worker attempts to go about her daily duties preparing bodies for pre-funeral viewings. Soon after a corpse suddenly sits upright and curses Karen for an unknown transgression, the frightened girl finds herself being relentlessly pursued by a villain who seems to have escaped from her worst nightmares. When Karen falls back asleep, however, she is surprised to find that she has taken on the persona of Susan (also Birch), an average girl with a normal job and a decidedly sane existence. Now, if she could only figure out which is the dream, and which is the true reality. Perhaps the strange locker key she has recently discovered will help to unlock this troubling mystery.
Critic Reviews for Dark Corners
All Critics (2) | Fresh (0) | Rotten (2) | DVD (1)
...another tedious, egregiously confusing horror flick that seems to be aiming for a David Lynchian sort of tone but instead winds up an entirely interminable piece of work.
Audience Reviews for Dark Corners
I have watched this three times and I think I have to look up spoilers every time because I never quite get it! (A long gap between views I must add, so I've forgotten the actual story by then). Today was no exception, but I don't think I'll ever forget it again. Dark, creepy, kind of obscure and maybe could have spelt it out.a tiny bit more, but great acting from Thora in both roles.
Nicki Marie
Super Reviewer
It was interesting, but I felt like I was listening to a friend telling me a cool story and when they're done, I say "And?" and they say, "And that's it! Isn't it great?" And then I have no idea what the point was. I have a feeling the people involved felt the same way, but didn't know how to break it to themselves...
Sarah Prisbylla
Super Reviewer
Yinalí Ríos
Super Reviewer
Dark Corners Quotes
There are no approved quotes yet for this movie.