The Dark Half
(1993)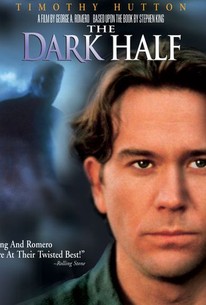 TOMATOMETER
AUDIENCE SCORE
Critic Consensus: The Dark Half is a highly serious psychological study that can be faulted for being more curious than actually scary.
Movie Info
Writing under the name of Richard Bachman, Stephen King's twisted musing on his own experiment with an alter-ego spawns this horror tale of a writer whose pseudonym takes on a deadly reality, heralding a vicious killing spree, with all the clues quite naturally pointing straight back at him.
Critic Reviews for The Dark Half
Audience Reviews for The Dark Half
½
Overlong, nonsensical horror flick wastes a good cast on twaddle. On top of everything else the ending is very weak. Julie Harris' screen time amounts to about five minutes.
Every narrative writer is faced with a predicament in how to navigate the conclusion of his story. Shall he embrace the optimistic side of his personality with a love-conquers-all finale or shall he trek down the nihilistic path? In the brooding 'The Dark Half', the devalued Timothy Hutton stunningly plays both Thad and George in quaking dual performances. George is a frightening Southern gent who is endowed with a gallows sense of humor ("What's going on here?" "A murder. You want some?"). Any collaboration between George Romero and Stephen King is a plausible reason for rejoice among horror fans and like their anthology picture 'Creepshow', 'The Dark Half' is a rakish, darkly funny thriller that rummages through philosophical quandaries around the physical manifestation of one's inner demons and a writer's dependent relationship with his material. Even though Romero utilizes Thad's twin babies as child-in-danger plights, it doesn't nosedive into exploitation. The sparrow attack is a tad heavy-handed and needlessly gore-drenched, but the rest of 'The Dark Half' is a spooky showcase for the versatile talents of Hutton.
Cory Taylor
Super Reviewer
I loved this horror movie based on a King novel, the story is sort of like Dr. Jekyll and Mr. Hyde or one of those classics, but in a modern setting. Like many of King's stories, it's about a writer too. I loved it.