Dark House
(2009)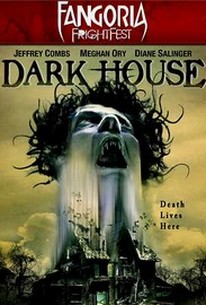 AUDIENCE SCORE
Critic Consensus: No consensus yet.
Movie Info
A cutting-edge haunted house attraction is constructed inside a foster home that was the scene o a gruesome murder spree, and the young performers begin to die in the most horrible ways imaginable when the killer's ghost is stirred from its slumber. Charismatic and flamboyant, Walston Rey (Jeffrey Combs) is a true master of illusion. Upon discovering a derelict foster home where a killer named Janet Darrode murdered several children, Walston believes he has found the perfect venue for his most recent venture - a haunted attraction driven by revolutionary new holographic technology. With holographs, Walston can create harmless projections that possess the power to terrify ticket buyers. But he'll need some volunteers to complete the illusion, and young drama student Claire is the perfect candidate. Little does Walston realize that Claire has a hidden motivation for showing up at the foster home, and when the ghost of Janet Darrode returns to kill again, Claire prepares to finally face the darkness she once ran away from.
Critic Reviews for Dark House
Audience Reviews for Dark House
½
The fourth time is the charm for the Fangoria Frightfest! The acclaimed horror festival has been a complete bust up until it's fourth film, Dark House. This is a highly imaginative film, with one hell of a twist in the end, and as all of my regular readers know, I love a good twist at the end! Dark House is Walston's newest haunted attraction, featuring state of the art technology, that promises to rattle even the most fearless of people. Aside from the new technology, the big draw for Dark House is that it is the actual house where a ghastly mass murder took place years earlier. Besides it's cool effects, what I really liked about this film was the strong background story that goes along with it. Yes, it does eventually become a gorefest, but it comes after you've been watching a really interesting story for quite some time. As for the gore, it's not what you usually see either, as it's done in a b-movie style. This was really interesting to me, as the attraction features state of the art technology, but the actual murder scenes look like something out of a cheesy 70s film. The stars of the film are mostly newcomers, and as expect some were great, while others need more school, but it's a fairly large cast, so those actors who aren't very good, didn't have much screen time. Dark House will make you jump, make you laugh, and shock you with it's surprise ending. There's a simple plot, that's easy to follow, and an interesting back story for those of us who like to think a little bit. It is really everything I look for in a Horror film and more.
Todd Smith
Super Reviewer
½
Dark House is a low budget Horror film that tries too hard to be in the same league as the Hollywood productions. The question is, does it work? Well no. The cast here do a below average job at acting, and the script is pretty weak. Which is a shame because the idea for this film was pretty interesting, unfortunately it's budget limitations are in the way along with a bad script. Re-Animator actor, Jeffrey Combs plays in this film, and he's often amusing, but he lacks the flair that made him great in Re-Animator. Dark House has too many loose ends to be a good story, and definitely a below average film that doesn't quite succeed on what it promises to deliver. If the cast was better chosen, and I'm not talking about Combs, maybe this film would have been a better one, unfortunately the film feels flat, the scares aren't real. The film ends up feeling quite boring, and it feels like it drags on. Dark House really had the potential in being a great film, unfortunately it's just another low-budget horror blunder. There were some good ideas at work here, unfortunately the film never succeeds at delivering something good and unique. The film falls apart, and it becomes derivative and uninteresting. I think it's a shame because there were some fairly interesting ideas here, unfortunately due to a bad script, and poor directing, the film never takes off and becomes a misfire. Dark House is a bad film that I can't recommend because it's simply a film that doesn't work to entertain its audience.
½
Semi-interesting with a somewhat generic premise... you've seen it before but it's enough to pass the time.
Dark House Quotes
There are no approved quotes yet for this movie.