Dark Night of the Scarecrow
(1981)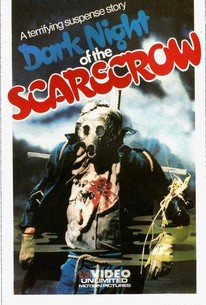 Dark Night of the Scarecrow Photos
Movie Info
Misguided townsfolk, blinded by bias and fear, mistakenly kill a mentally retarded man after someone accuses him of raping the young girl he had befriended. Shortly thereafter the entire town is beset by a supernatural terror. The story originally aired on television.
Critic Reviews for Dark Night of the Scarecrow
Audience Reviews for Dark Night of the Scarecrow
½
A really interesting made-for-tv horror film that plays more like a thriller with dramatic elements. I wasn't really scared by it but I can see why people might be creeped out by it. I think that the length of the thing runs down the pace of it a bit (this was made for television with commercials in between, after all), but other than that, it's a pretty effective revenge tale.
Tim Salmons
Super Reviewer
½
Dark Night Of The Scarecrow has got to be the best tv movie since Duel. Frank De Felitta's film leaves a lot to imagination to guess and with that in mind, Dark Night Of The Scarecrow leaves it up to your imagination to guess whats going on. Which makes it truly terrifying. Seeing how terrifying this film really is, it's hard to comprehend that this is a simple made for TV film, but it is, and with that in mind, this film is truly a masterful work of Horror. The film proves that you don't need loads of gore to create, tense, horrifying situation, and much like John Carpenter's Halloween, its up to your imagination to try and guess whats going on, and like I've previously said, it makes for a much scarier picture. Dark Night Of The Scarecrow is a well acted, well paced and directed film. Charles Durning plays a great villain, as the head of a lynch mob who kill a mentally challenged adult falsely accused of hurting a little girl. It's not soon after, that Bubba(the mentally challenged man, falsely accused of hurting the girl) comes back to life in a guise of a scarecrow and hunts and kills for the killers who killed him. As the film progresses, you learn to really despise Charles Durning's character. The film is very well crafted and spawned the entire Horror subgenre of the Scarecrow. Like I've previously mentioned, Dark Night Of The Scarecrow is the type of horror film that leaves your imagination run wild. Thus it makes this film way more scarier than most Hollywood Horror fare. Dark Night Of The Scarecrow possesses a terrific cast with one scary original story , A very unique and original made for TV film. An essential Halloween viewing experience.
½
Long before the days of SyFy there was a time when you could look forward to "movies of the week". Some of my favorites are Salem's Lot, The Manitou, The Intruder Within and this little gem that was made to cash in on the slasher craze going on in theaters. Not perfect by any means but it has a fair share of chills and atmosphere.
A.D. Villarreal
Super Reviewer
Dark Night of the Scarecrow Quotes