Dark Reel
(2008)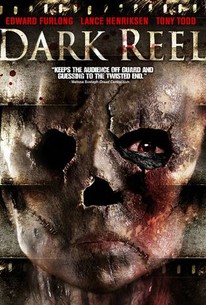 AUDIENCE SCORE
Critic Consensus: No consensus yet.
Movie Info
A long-dormant Hollywood mystery returns with ferocious intensity when an avid movie fan wins a walk-on role in an upcoming horror film and finds himself thrust into the center of a blood-soaked, behind-the-scenes killing spree. Adam Waltz (Edward Furlong) was beginning to think his life was going nowhere until the day he won a role in the latest shocker from high-powered studio chief Connor Pritchett (Lance Henrikson). But just as Adam meets scream queen Cassie Blue (Tiffany Shepis) and all his wildest fantasies start coming true, a serial killer begins stalking the set and slaughtering all of the actors. Scheming to cash in on the publicity while the bodies are still warm, Pritchett attempts to turn the low-budget thriller into a Hollywood hit. The first step is to expand Adam's role - not a difficult goal considering the actors are dropping like flies - though the future of the film comes into question when Detective Shields (Tony Todd) takes up the case. Shields is determined to get his man, even if it means shutting down the production altogether. Now everyone is a suspect, including Adam, and the only hope for getting the film made is to wrap up production before the entire crew gets sent home in body bags.
Critic Reviews for Dark Reel
All Critics (2) | Fresh (0) | Rotten (2)
Dark Reel comes so close to being a pretty decent horror flick but its being part ghost story and part slasher flick just end up making it seem like for me that someone filmed two separate movies and wove them together.
August 10, 2011 | Rating: 2.5/5
While I can't in good conscious recommend Dark Reel even as a rental, it might be worth a look on late-night TV for insomniac fans of the cast and admirers of whacky Hollywood send-ups.
Audience Reviews for Dark Reel
Dark Reel follows the story of a crew trying to shoot a low budget movie during filming one of the cast is killed and everyone could be a suspect includeing a fan that won a contest to have a small part in the movie as everyone is trying to figure out who the killer might be more of the cast start dropping like flies untill someone figures out that these killings lead back to a unsolved murder in the 40's of a little known hollywood actress. This movie was pretty bad from the start and kinda got worse from there the story could have been good maybe given a better cast and more budget but it looks like this was shot for nothing and to top it off you get to see a badly aged very bloated Edward Furlong as one of the leads two stars for very few of the scenes but overall it might be a waste to alot of peoples time.
Fun cast can't save a poorly scripted mess with lackluster direction.
Anthony Valletta
Super Reviewer
Dark Reel Quotes
There are no approved quotes yet for this movie.