Darkness
(2004)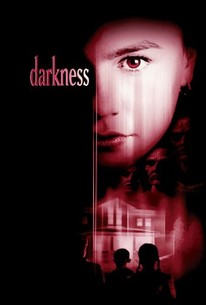 Movie Info
Three weeks ago, just before the lunar eclipse, American teenager Regina and her family moved into a charming old house in the remote Spanish countryside. Since then, nothing has been the same. Day by day, a strange force seems to be pulling the family apart and Regina is the only one brave enough to search for answers. However, she is about to discover the answers to all her questions lie deep within the walls of their new home: something has been waiting here for her family's arrival; something ancient and wicked; something looking for retribution; a force as bottomless and hungry as the dark itself. Now, darkness is closing in on Regina's family, and she's their only chance for survival.
Critic Reviews for Darkness
Audience Reviews for Darkness
½
I thought the story to this was pretty good, but it just got really slow in some parts. But It's still a pretty good horror flick.
Jacob Palacio
Super Reviewer
Such a suck ass movie. The acting and script are so awful it makes me nauseous. The entire plot was horribly executed as well. It was such a boring movie. I would also like the punch in the face whoever did the film editing. Some parts were trying to be suspenseful, but the film editing was so awful it seemed like the movie was having a seizure. In one part where the lights go off, the camera is focused on the father's bleeding hand, then it switches upstairs to the boy's room, then rushes outside and focuses on some swings in the rain (wtf??? so random), then goes back to the father's hand, then goes upstairs, then goes downstairs where the mother is trying to turn on the lights....it's like the movie has freakin ADD. This movie needs some medication. The potential was there, but everything else was not.
Boring does not even begin to describe Darkness. Three times, I've attempted to watch the entirety of Darkness. Three times. The results? A brisk walk out of the movie theater after 20 minutes on attempt number one, a pleasant, unplanned nap after 24 minutes during attempt number two, and a quick trip to the garbage can to make a dvd "deposit" after the 30 minute mark on my final try. Netflix, I'm sorry I threw away your dvd, but I truly think that I did you (and the world) a favor.
Darkness Quotes
There are no approved quotes yet for this movie.