Darkness Falls
(2003)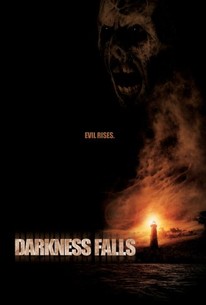 Movie Info
As a young boy, Kyle Walsh claims to have accidentally woken up out of his sleep, just in time to see the Tooth Fairy trying to kill him. From that point forward he is considered crazy by everyone in town--except his childhood sweetheart, Caitlin, and her little brother, Michael. Years later, Kyle must return home to confront his troubled past, and save Caitlin and Michael from an unrelenting evil that has plagued the town of Darkness Falls for over 150 years.
News & Interviews for Darkness Falls
Critic Reviews for Darkness Falls
Audience Reviews for Darkness Falls
½
Decent horror yarn that could have been much better, Darkness Falls is not as bad as everyone has claimed it to be, but it leaves a lot to desired. What I enjoyed about the film was the concept; I thought it was very interesting. Despite this, it seems that the filmmakers were afraid of trying to do anything truly great with its idea. The result is a horror film that relies on jump scares to deliver its tension. I enjoyed it for the mindless entertainment it provided. There's never anything going on on-screen to really make it good. Darkness Falls is a decent outing, but it does lack in some areas and I think it could have toned down on the jump scares, which really didn't work. The idea was interesting, but there just wasn't enough substance to the story to truly realize its potential. A decent horror outing, but nothing ever great, the film is just mildly fun entertainment if you can forget its flaws. As a whole it does do its job at being fun, but there are plenty of things that could have been changed. The problem with this film is that it relies way too much on special effects instead of having a tense, brooding atmosphere, which is at the core of every solid horror flick, and then maybe the film would have been better. Decent, but not as bad as what every one has claimed it to be, the film is worth watching if you have nothing else better to watch. If more effort would have been put into the script and the focus would be less on effects, then maybe this would have been a far better film.
It started out real good. I mean REAL good. I absolutely loved the beginning. It was dead creepy. But then it started to get corny and boring in the end. Kyle's acting wasn't that good. His "stay in the light" dialogue seemed to be more like uttering a memorized line without having any feelings in it. And it kinda bothered me when all the characters died (except the main ones, of course).
Dead Angel
Super Reviewer
½
While the opening scene was promising and genuinely suspenseful, the rest of the movie wanders in a different direction to make it ultimately suck. I like the idea of not looking at the antagonist - sounds like the concept of a creepy myth. So why didn't they put more emphasis in that and leave all of the crap out? I really don't want to spend too much time writing this, as such a disappointing film doesn't really deserve the time of day....so why am I wasting my time writing this? It's even more pointless than the film itself. Oh well, I'll go now.
Cassandra Maples
Super Reviewer
Darkness Falls Quotes
There are no approved quotes yet for this movie.