Darling Lili
(1970)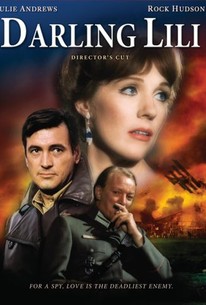 Movie Info
Julie Andrews made a bid to change her squeaky clean image with this elaborately mounted World War I musical. Lili Smith (Andrews) is a popular British music hall singer who is regarded as a femme fatale and has been known to throw a bit of striptease into her act. However, Lili has a secret: she's actually a German spy, and the uncle she dotes upon is really Von Ruger (Jeremy Kemp), a fellow espionage agent and her contact for the Huns. In hopes of gaining valuable information, Lili begins using her feminine wiles on Maj. William Larrabee (Rock Hudson), a top American pilot. However, Lili soon discovers that she's falling in love with Larrabee and can't find the courage to betray him; Larrabee discovers Lili's secret, but he refuses to turn her in. Darling Lili was a notorious box-office disappointment, grossing a mere $5 million on a budget that rose to $25 million due to a variety of production mishaps. Director Blake Edwards (Andrews' husband) was stung by the poor reception, and he later trimmed the 136-minute film to 114 minutes, downplaying its comic elements in favor of a more serious tone.
Critic Reviews for Darling Lili
Audience Reviews for Darling Lili
Colorful musical that is deficient in the script department, exactly why Julie is a spy is never really apparent and it really hurts the film. That being said the production design is beautiful as are some of Julie's costumes, it all seems overproduced and underdirected though. Rock has been better elsewhere although that also is probably the fault of the script. Really a three star film the extra star is for Julie and her voice which is exquisite and put to use on some lovely songs.
Darling Lili Quotes
There are no approved quotes yet for this movie.