D.A.R.Y.L.
(1985)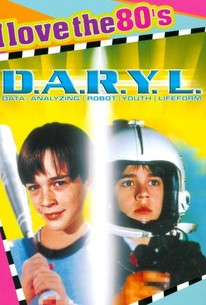 Movie Info
A ten-year-old boy (Barret Oliver) found at the edge of a road is picked up and later adopted by a young childless couple (Mary Beth Hurt, Michael McKean). They begin to raise him, but find that he has several odd habits. When another couple claiming to be his parents come to pick him up, they begin to suspect there's more to the boy than meets the eye.
Critic Reviews for D.A.R.Y.L.
Audience Reviews for D.A.R.Y.L.
½
Astounding to see there is an 80's movie left that I haven't seen! I have to say that I enjoyed this vastly more than my recent revisiting of The Goonies! Barett Oliver was such a cute child actor. It really is a shame he had a reasonably short movie career. Here he plays daryl, who is part robot, part human. Yes, it's a boys movie, but is a likable and enjoyable one. Though it looks dated and very typically 80's, for me that was part of it's charm.
Nicki Marie
Super Reviewer
Gosh, I saw this such a long time ago, I don't remember it, I should watch it again some day.
½
Daryl is a boy genius who lives with his foster parents. The government soon come after him.
Candy Rose
Super Reviewer
D.A.R.Y.L. Quotes
There are no approved quotes yet for this movie.