Dave
(1993)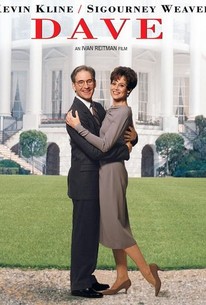 TOMATOMETER
AUDIENCE SCORE
Critic Consensus: Ivan Reitman's refreshingly earnest political comedy benefits from an understated, charming script and a breezy performance by Kevin Kline.
Movie Info
The ghost of Frank Capra must have smiled when he saw Dave, an amusing and effective update of one of Capra's favorite themes -- the scrupulously honest little guy who becomes a force for good against a corrupt system. Dave Kovic (Kevin Kline) runs an employment agency and seems to genuinely enjoy finding work for people who need it. He also bears a striking resemblance to the president of the United States, Bill Mitchell (also played by Kline) and occasionally gets work as a Bill Mitchell impersonator. One day, Dave gets a call from the Secret Service -- for security purposes, they want to hire him to act as a decoy for an upcoming appearance by the president. All goes well, but later that evening President Mitchell suffers a massive stroke while in bed with his mistress. Wanting to keep the matter a secret, two of the president's top advisors appeal to Dave to stand in as Bill Mitchell until he regains his health. One of the men behind this scheme, Bob Alexander (Frank Langella), hopes to use Mitchell's absence to promote his own right-wing political agenda, but after a few weeks "in office," Dave decides it's time to promote some changes of his own that will help increase employment and keep homeless shelters open. Dave also finds himself growing fond of Ellen Mitchell (Sigourney Weaver), the President's wife, while Ellen sees in Dave the idealism her husband left behind years ago. Dave features numerous cameo appearances by politicians, Washington insiders, and journalists; Oliver Stone also appears to explain a conspiracy theory regarding sudden changes in Bill Mitchell's behavior.
News & Interviews for Dave
Audience Reviews for Dave
Frank Capra would be proud. Ivan Reitman's second best film.
Graham Jones
Super Reviewer
There's something quite magical about 1993. Not only do I count it as one of the best years of my life, but it's one that also brought us some of the greatest movies I've ever seen. Personal favourites of mine like Jurassic Park and Groundhog Day. Among all those cinematic triumphs, there was also another, more anonymous story. One that sort of fell in the shadow of previously mentioned titans (and that I hadn't really heard of until recently). I'm referring, of course, to Dave. Now, I could speak volumes of what makes this into such a wonderful viewing experience. But as I'm trying to keep my reviews in digestable portions, let me just say the following: Kevin Kline at his career-best, Sigourney Weaver as a lovely first lady. Funny, romantic, touching and inspiring. And these are just a few of the things that I loved about it. An underrated, heartwarming and flawlessly directed comedy, that starts off great and then gets better for every minute thereafter.
Lucas Martins
Super Reviewer
Dave Quotes
There are no approved quotes yet for this movie.