Dave Made a Maze
(2017)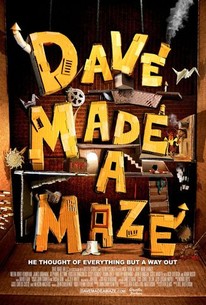 TOMATOMETER
AUDIENCE SCORE
Critic Consensus: Dave Made a Maze offers decent storytelling but plunges deep into bold stylistic waters, establishing director Bill Watterson as a fresh and inventive filmmaker.
Movie Info
Dave, an artist who has yet to complete anything significant in his career, builds a fort in his living room out of pure frustration, only to wind up trapped by the fantastical pitfalls, booby traps, and critters of his own creation. Ignoring his warnings, Dave's girlfriend Annie leads a band of oddball explorers on a rescue mission. Once inside, they find themselves trapped in an ever-changing supernatural world, threatened by booby traps and pursued by a bloodthirsty Minotaur.
News & Interviews for Dave Made a Maze
Critic Reviews for Dave Made a Maze
Audience Reviews for Dave Made a Maze
One way to stand out in a crowded marketplace is to differentiate your movie by making it weird and whimsical. Just being different can grab your attention, and Brigsby Bear and Dave Made a Maze are definitely different. Both of these indie films attracted attention for their unusual concepts and lo-fi designs, banking on a sense of nostalgia for a homemade style of art that's a little rough around the edges. These might be two of the strangest films that will be released in 2017. With Dave Made a Maze, the titular Dave (a beardless Nick Thune) is lost in a maze that he built in the apartment he shares with his beleaguered girlfriend, Annie (Meera Rohit Kumbhani). This maze consists of a cluster of cardboard boxes taped together. In time, a group of their friends and even strangers have assembled to admire the maze. Dave warns them not to enter but they do so anyway, and once inside they realize that the maze is considerably bigger and byzantine, and everyone expectedly gets lost. Annie and a documentary crew travel (lead by James Urbaniak) deep into the maze to rescue Dave. They all must confront booby traps, a Minotaur, thirty-something existential ennui, and the unsettling realization that the maze is expanding all on its own. The real star of Dave Made a Maze is the fantastical environment inside the maze. The resourcefulness, imagination, and implementation of such a bizarre vision on such a limited budget is incredible. Each new room offers a new opportunity for the surreal. The characters stumble from room to room in mixtures of awe and bemusement, and the audience will feel the exact same way. Production designers Trisha Gum and John Sunner, and Art Director Jeff White, come from a world of animation, and they're meticulous attention to detail pays off to an astonishing degree. In a just world, they would be nominated for an Oscar. There's a DIY inventiveness that carries an irresistible charm with it, re-purposing everyday items to create a unique and whimsical world. Even when people are being gored to death and dismembered it adheres to the whimsical tone. The blood is replaced by red yarn, confetti, and silly string. The movie smartly underplays the lack of consistent logic within the world of the maze, and so weird things can just happen at a moment's notice, like the main characters turning into puppet versions of themselves made out of paper lunch bags. There's even a half-finished maze within the maze, which draws derision from the tired and frustrated people just seeking a way out. Some of the weirdness feels too half-formed and self-conscious, but the movie has an Eternal Sunshine quality where each new location provides another enjoyable opportunity for potential discovery. Where Dave Made a Maze runs into problems is when you realize there isn't anything beyond that sense of invention. There isn't a larger thematic core to this movie and the characters remain, at best, background players elevated to starting status. Most of these characters are jokes but they don't even supply much in the way of jokes. The closet to a substantive theme is simply an arrested development fable where the man-child is struggling to finish a laboring artistic accomplishment, he feels humbled and humiliated, and his strained relationship with his accommodating girlfriend will always come together in the clincher. Dave lashes out that he didn't feel like an adult at 30, so maybe he retreated to the halcyon days of childhood, or maybe it was a nostalgic retreat. Whatever the case may be, the movie suffers from an inevitable lull once the giddy novelty of its DIY fantasy starts to wear off. There's one sequence where Dave and Annie have a circular conversation that just keeps going, and I'm sure if the filmmakers weren't so desperate for material that it would have been trimmed down significantly. Even at 76 minutes before credits, this is a movie that feels stretched beyond the limit because it's lacking greater consideration to story. There are jokes that feel like they should be funnier too, like a latecomer to the maze who sets off the traps that Dave warns about earlier. This should be a fun structural payoff, allowing us to see both sides of the rooms. It doesn't really work out that way, and the bumbling latecomer becomes another relatively unmemorable and undeveloped body on screen taking up space. The documentary crew conveys some mild satire as the crew leader keeps prodding others into saying what he needs for his movie, but even this inclusion feels more like a transparent device to get the characters to talk through plot points. Another misfire is the curious lack of stakes. The movie has a light-hearted charm but then doesn't ever quite make up its mind on the danger being confronted. Real friends die for real. By the end of the movie, they do not come back even after the maze is kaput. They are really dead. Yet the film plays the stakes at a low simmer and the survivors just sort of shrug and move on. The film gives me little reason to be attached to any of these people, alive or dead. Whimsy is a fleeting feeling that's hard to conceive and harder to hold onto. Both movies take whimsical premises that cater to the peculiar but only one delivers something of lasting substance. Brigsby Bear is a charming, heartfelt, and exceedingly sincere movie about an oddball finding his place in the world through the power of the creative process. He is transformed through his love of art and how that serves as the foundation for community. Whereas Dave Made a Maze is a lo-fi curio that I can admire more than enjoy. It's missing crucial elements that make its journey worth the effort, beside its imaginative and scrappy production design. Both movies are charged by the power of the imagination to transport the ordinary into the extraordinary. Brigsby remembers to use its flights of imagination and whimsy to tell an engaging and ultimately touching story. Dave Made a Maze has cool sets and some infectious silliness. If you see one story of a man-child escaping into a world of nostalgic imagination and inviting friends to tag along, make it Brigsby, a film that uses whimsy to still tell compelling human stories. Nate's Grades: C+
Nate Zoebl
Super Reviewer
Dave Made a Maze Quotes
There are no approved quotes yet for this movie.