David Brent: Life on the Road
(2017)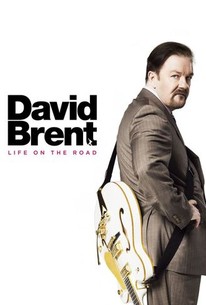 TOMATOMETER
AUDIENCE SCORE
Critic Consensus: David Brent: Life on the Road has its moments, but this further exploration of an established character suffers in comparison to what came before.
David Brent: Life on the Road Videos
David Brent: Life on the Road Photos
Movie Info
Now working as a rep selling cleaning (and ladies personal hygiene) products up and down the country, David Brent hasn't given up his dream of becoming a rock star - or more specifically, singer/songwriter for fledgling rock band 'Foregone Conclusion'. As he assembles a group of mercenary session musicians, a talented sidekick for street cred and an overpriced yet underwhelmed tour manager, he embarks upon a self-financed UK tour coming to a venue near every major city near you.
News & Interviews for David Brent: Life on the Road
Critic Reviews for David Brent: Life on the Road
Audience Reviews for David Brent: Life on the Road
½
Ricky Gervais is picking up right where he left the character with his show The Office. Now Brent wants to become a rock star. Of course that makes for plenty of wonderfully awkward situations but especially in the end really hits home when you see the sadness behind the clown. Gervais is a master in the finding the balance in this. And, more importantly, he is hilarious.
½
The man, the legend, is back! Yes for all 'The Office' fans (possibly both from the US as well as the UK) this could be the greatest news ever, maybe the greatest film ev...no no going too far. Good old controversial Ricky Gervais is back doing what he does best in his monumental creation...being controversial. For those in the know (should be everyone) that will be music to your ears, for those not in the know or simply not a fan, you probably should just pass this by, unless intrigued. So as I'm sure most will know (ahem! see what I said above), this movie is based on the smash hit satirical UK comedy series 'The Office'. The show is a mockumentary that focuses on the employees of a small fictitious paper company based in Slough, UK. The idea is quite simply, a TV camera crew is making a documentary about this small firm, filming the day to day goings on and how the company operates. What is captured is actually the cringeworthy, embarrassing, facepalming shenanigans of the companies general manager of this particular branch, Mr David Brent. While most of the companies employees try to do their work, Brent mugs, shows-off and generally attempts to make himself look good or cool for the cameras. What we see is a hideous display of generally offensive behaviour that Brent regularly doles out to all, but for the most part, blissfully unaware of what he's actually doing (and the damage). This fantastic TV show was short lived with two series (go out on a high, take note America) and an hour long Christmas special. The show was also taken on and remade in the US (no shit). After a rocky start the US equivalent finally got going and ended up being pretty good too, if completely milked dry of laughs and ideas by the end. This movie follows on from where the UK series and Xmas special left off. Following Brent after he was sacked from Wernham Hogg, his short lived career as a travelling sales rep, and his even shorter lived career attempt at fame and fortune. Brent is now a sales rep for a bathroom company called Lavichem. He is desperate to try his hand at a music career again so he decides to take a month unpaid leave to follow his dream. The movie kicks off on familiar ground with a similar set up that we saw from the original series. Brent is back in an office and acting the tit, generally unawares. Most of his fellow work colleges find him obnoxious, one or two seem to like him but keep it to themselves, and Brent has yet another sidekick to play off. So essentially its back to what you know, basically recreating it, a remake of sorts. Does it work? hmmm no not really. When the film starts and you see these familiar sights it does excite you no doubt (if you'r a fan). But as quick as it excites you, it disappoints you with flat unfunny dialog. Most of the office characters are pretty much the same types we got in the original show and Brent's sidekick is really quite annoying, but for real this time. So the film doesn't really start off well if you ask me, but luckily we're not spending too much time in this office as Brent is off rampaging with his quest. We meet his so called rapper friend, a mixed race man...who raps, and watch as he hires a crew of musicians and tech guys. Basically none of them are really interested but Brent foolishly offers them good money thinking his success is a foregone conclusion, ironically the name of new band. And thus the tour begins! A tour of venues across Berkshire. For the most part we follow the band as they travel from gig to gig, obviously. We see them at their hotels, practising, setting up for gigs, after gigs, talkin' bout money deals, having drinks in the hotel bars, jammin' and generally having a bit of a laugh. Then we see Brent tagging along behind (see what I did there? huh? huh??), trying to get in with the guys, trying to be liked, trying to be accepted, trying to be the cool lead singer of a band and generally playing up and showing off to the camera. So nothing to new then to be honest. The amusing part of all this, is the fact that Brent's the person who set up this whole series of events, he created the band, he's paying the wages, its his baby. But he's treated like a fifth wheel, as if he's part of the clean up crew or something. The other band members are only there for the money and to bum around while Brent sees this as a genuine push for glory. Heck Brent even ends up paying them to sit and have a drink with him after gigs! To make matters even worse for Brent is the fact that his 'best friend' the rapper is actually a very gifted rapper. The guy has skills and could go places, maybe Brent could manage his career? Maybe they could work on a double act? But naturally when Brent discovers this his jealousy gets the better of him. Cue an obvious scene where Brent is looking pissed into the camera as he finds out his best mate is really good, better than him, and is going down a storm at a gig just after he's performed. As the disastrous tour continues Brent ends up shelling out more and more to promote his band. It all comes to a point where even his crew see his floundering into ruination and tell him to stop. Spoiler alert but everything doesn't really work out for poor old David and he ends up going back to his sales rep job without a record deal. But luckily one of the staff members that kinda secretly liked him comes out and shows it (a lady). So once again David manages to end up with a shoulder to cry on and possibly (this time?) a long term partner. So in the end is this any good or as good as the classic original series? Its a firm no from me I'm afraid, not even close. The main brutally obvious, slapping you in the face problem here is the simple fact that this movie just isn't very funny. Sure there are tonnes of gags, visual gags, the usual crushing satire, innuendos etc...but most of it falls flat every time. Obviously there are some good chuckles in there, Brent trying to get a tattoo is good (probably the best), seeing him hook up with some middle aged ladies out on the razz is another...I'm straining here. You can see what they're going for but its just not very funny, extremely basic humour at best. What's worse is you can see it all coming a mile off, there are no real belly laughs, no surprises, no cringeworthy shocks, or any shocks, and no real emotions to get you going. Sure you feel sorry for Brent towards the end, I really felt myself wanting this guy to win for once, but its all so tame and predictable. The ending is so painfully soft and forgettable. I guess in the end I have to ask, why exactly would a film crew still be following David Brent around? In what world would any production company think that it would bring in good viewing figures to show this universally unlikable guy doing more of what everyone seems to hate him for. I guess you could say morbid curiosity, but at this point in this fictitious world Brent is literally someone who had fifteen minutes of fame, over fifteen years ago on a documentary, and now he's a complete nobody. The original production was a moment in time that worked, but now the whole idea would seem an odd decision. A bit out of time or too late in the day. A bit like this movie really.
Phil Hubbs
Super Reviewer
David Brent is back but perhaps, like the,band in the film, his worn out welcome is A Foregone Conclusion. Well acted but also cringe worthy at times too, although the songs are good.
Ian Walker
Super Reviewer
David Brent: Life on the Road Quotes
There are no approved quotes yet for this movie.