The Dawn Patrol
(1938)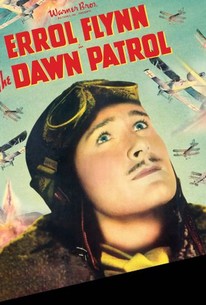 AUDIENCE SCORE
Critic Consensus: No consensus yet.
Movie Info
This 1938 remake of Howard Hawks' 1930 film The Dawn Patrol is faithful to the original's basic plotline. The story is set during World War I; the scene is the French headquarters of the British Royal Flying Corps, 59th division. The corps is suffering heavy losses, a fact that ace pilot Courtney (Errol Flynn) ascribes to the supposed ruthlessness of squadron commander Brand (Basil Rathbone). What the audience knows that Courtney doesn't is that Brand is distraught at losing his men, but is forced by his own superiors to push the pilots beyond their limits. After being accused day after day of being a butcher, Brand takes grim delight in turning over his command to Courtney. Soon Courtney finds himself enduring the "butcher" tag, especially after the younger brother of his best friend Scott (David Niven) is killed. To redeem himself, Courtney gets Scott drunk and takes his place in a suicidal bombing mission. Courtney is killed, Scott assumes command, and the cycle begins again. The extensive use of combat scenes from the original Dawn Patrol has led some viewers to assume that the 1930 version is the superior of the two. In fact, the remake is far better than the original on several counts, not least of which was the star power of Errol Flynn and Basil Rathbone in their third screen teaming.
Critic Reviews for The Dawn Patrol
All Critics (3) | Fresh (3) | Rotten (0) | DVD (1)
It is quite a good picture, well-directed and in some cases well-acted, but I don't believe it's true-a great deal of self- pity and romanticism have gone to the making of this excellent ham-sandwich.
...camaraderie and dogfights and bombing runs and stiff upper lips.
Competent remake of the 1930 Howard Hawks film of the same title.
Audience Reviews for The Dawn Patrol
Clear eyed depiction of the cost and dangers for bombers during wartime. Errol Flynn is very good, a reminder that he was excellent not only in period pictures and westerns but quite capable in modern dress dramas. Strong supporting cast helps with Basil Rathbone standing out as a man who understands but is troubled by the weight of his duty even while others do not and is compassionate enough when the that weight has shifted to offer solace. David Niven's star moved much higher with his performace here, it would still be a few years before he moved into the top ranks but he was done with unimportant roles from this point on. Goulding's direction is steady and assured.
The Dawn Patrol Quotes
There are no approved quotes yet for this movie.