A Day at the Races
(1937)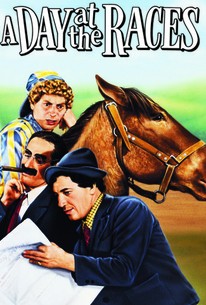 A Day at the Races Photos
Movie Info
In this Marx Brothers' comedy, a horse named Hi-Hat is a financially troubled sanitarium's only hope of avoiding foreclosure. Luckily, the sanitarium's new director is a veterinarian impersonating a physician. Groucho and his gang are up to their usual zany tricks, trying to make sure Hi-Hat wins a steeplechase race.
Critic Reviews for A Day at the Races
Audience Reviews for A Day at the Races
I believe this is the longest of the Marx Brother's movies. It really didn't need to be so long, there were a couple of boring scenes. Other than that, the Brothers do all their usual jokes and run around being silly as usual, which is always fun, so I liked this movie anyway.
Much funnier than the last couple of films I've seen.
Tim Salmons
Super Reviewer
This second Marx Brothers picture for MGM has many of the same elements. Sam Wood directs again. Allan Jones and Margaret Dumont are still on hand. Ruman returns in a briefer supporting part. Wunderkind Thalberg dies part way through production at age 37 though. Maureen O'Sullivan is the new romantic leading lady. Ceeley, Dumbrille, and Middlemass are the villains this time representing business managers of a sanitarium who want to turn the building into a casino. Groucho is Dr. Hugo Z. Hackenbush, a vet who has convinced Dumont's Mrs. Upjohn that he is an expert psychiatrist and medical doctor. He is brought in to try to save O'Sullivan's sanitarium, which her father ran before her. Chico works for O'Sullivan and Harpo is a jockey at the nearby horse track. Jones is romantically involved with O'Sullivan of course, but annoys her when he invests in a race horse expecting to win enough to pay her debts and his. Again some of their best comic "set pieces" are contained here: Tootsie-Fruitsie Ice Cream, Groucho calling Whitmore as the Florida medical board, Harpo's charades for Hackenbush is gonna be framed, Chico and Harpo interrupting Hackenbush's dinner with Flo, the medical examination of Mrs. Upjohn, and the chaos the boys cause at the race track. Harpo's non-verbal pantomime is even more expressive and hilarious in this picture. The music is still great entertainment though more on a popular track this time since the opera of the previous film. Jones has a solo in front of a wall of water, a Busby Berkeley type ballet number is revealed behind the wall of water, and a solo ballerina does an unbelievable number of rapid pirouettes. Chico does another piano piece and Harpo does too until he demolishes the instrument. It is a treat to see him use the strings and frame from the inside of the piano as his harp to avoid being hauled away by the authorities. Later there is a huge gospel/jazz/swing musical number. An entire black community living around a barn where the brothers are hiding out follow Harpo who is playing a whistle. The scene is a little odd and at times disturbing for its racial stereotyping, but the singing and dancing by everyone but the Marx Brothers is well done. At least there is some variety from the ballads popular to white culture in the mid-30's here.
Byron Brubaker
Super Reviewer
A Day at the Races Quotes
| | |
| --- | --- |
| Mrs. Emily Upjohn: | I've never been so insulted in all my life! |
| Dr. Hugo Z. Hackenbush: | Well, it's early yet. |
| | |
| --- | --- |
| Flo Marlowe: | Oh, hold me closer! Closer! Closer! |
| Dr. Hugo Z. Hackenbush: | If I hold you any closer, I'll be in back of you. |