Day Night Day Night
(2006)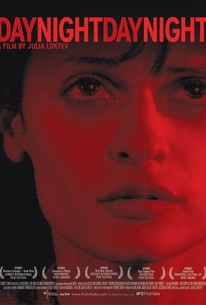 TOMATOMETER
AUDIENCE SCORE
Critic Consensus: Day Night Day Night is a minimalist drama that refuses to indulge in stereotypes, making it all the more realistic and chilling.
Day Night Day Night Photos
Movie Info
Writer-director Julia Loktev's (Moment of Impact) harrowing, claustrophobic thriller Day Night Day Night plunges the audience into the world of a suicide bomber just prior to her final, fatal act. As the film opens, a young woman (played by Luisa Williams) prays to an unknown, unspecified deity, then tucks away into a fleabag New Jersey motel room, when several hooded men arrive, arm her with explosives, and give her instructions to carry out. She then takes off alone, headed straight for Times Square, and making her way through clamoring throngs of real people -- any of whom could instantly become her casualties. Loktev strips away much of the external exposition, never revealing the central character's name, ethnicity, religious affiliation, or political background. The director thus forces the audience to focus, exclusively and unrelentingly, on the nature of the character's actions, and underscores the idea that terrorist motivations are, on some level, completely inconceivable to an outsider. Ironically, instead of turning the central character into a cipher and thus distancing her from the viewer, the film's stripped exposition terrifyingly draws the audience closer to the character. Josh Phillip Weinstein and Gareth Saxe co-star.
News & Interviews for Day Night Day Night
Critic Reviews for Day Night Day Night
Audience Reviews for Day Night Day Night
very dry and realistic, down to every last detail, but ultimately goes nowhere
Intriguing story plot. An interesting performance by Luisa Williams. Worth seeing!
½
[font=Century Gothic]"Day Night Day Night" proves the old adage that if you have seen one suicide bomber walk through Times Square, then you have pretty much seen them all by so overloading on detail, that what is meant to be frightening instead just leads to a feeling of impatience from the viewer. Actually writer/director Julia Loktev is less concerned with terrorism then with how women are treated by men, in this case, a young woman(Luisa Williams) being coerced by men to do the unthinkable. However, this same woman has the gumption to get on a bus to travel cross country which would take a good deal of free will on its own. The one thing the movie gets perfectly right is the sensory overload to a new visitor to Times Square, giving some idea that the woman is from a less populated area and by her dress, very conservative. But her lack of hopelessness, desperation or anger do not give any indication that she would resort to such senseless violence. Her hyper-politeness clashes with the profile of a suicide bomber(The fellow members of her cell also act very considerately towards her...) in that she seems so afraid of hurting someone's feelings that she would never be rude on purpose, much less wish to blow them to kingdom come. [/font]
Day Night Day Night Quotes
There are no approved quotes yet for this movie.