The Day of the Jackal
(1973)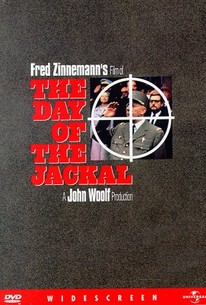 The Day of the Jackal Photos
Movie Info
Based on Frederick Forsyth's suspenseful best-seller, this nail-biting thriller chronicles a wily hit man's attempts to assassinate General Charles de Gaulle.
Critic Reviews for The Day of the Jackal
Audience Reviews for The Day of the Jackal
This movie was so epic in its story. A film surrounding a plot to assassinate French President Charles de Gaulle. It's an ultimate Thriller that keeps you on the edge of your seat. I could easily compare this to the Bourne Movies. But this movie stands in a class by itself. Edward Fox is awesome as the Jackal. The OAS seek to assassinate French President Charles de Gaulle due to the fact that he decided to give Algeria it's independence. After a failed coup, the OAS hire the help of an English Assassin to carry out de Gaulle's demise. Edward Fox delivers something so unique on screen that every time he's on screen, he almost believe he's a cold blooded killer. This film should have further'd Fox's career. He's only played in a handful of films since. Despite this, He was phenomenal in this film, and he is an underrated talent. The Day Of The Jackal is a solidly paced Thriller. Not many films have succeeded in offering something this thrilling, and this film remains in a league of it's own as one of the greatest Thriller films ever made. This film is highly suspenseful from the first jaw dropping five minutes of the film to the exhilarating climax, this film is a smartly crafted film that has an outstanding cast. Director Fred Zinnermann has done a masterful job at adapting Frederick Forsyth's masterwork of pulse pounding thrills. Aside from a few changes, this adaptation is very faithful to the book, and it's just as exciting as the book. So if you're planning on renting this film, be prepared to view one of the greatest Thriller films ever made, not many have come close to this classic. You will be wowed at how great this film is.
this movie is 2 1/2 hours long.. i fell a sleep a handful of times and there's no music in the whole thing. it's very boring and very long. i like the "remake" with bruce willis called The Jackal much better.
Alexis Nomm
Super Reviewer
½
The opening five minutes of the film are a marvel. Almost completely devoid of dialogue the scenes portray visually more story than most modern thrillers can fit into two hours. This is about the best book-to-film conversion I've ever seen. The cuts, where they are made, are logical and some locations are combined. From Forsyth's first, and probably best book (written in less than 5 weeks) this film contains nothing that does not drive the story forward. The character of the Jackal is brilliantly finely drawn. He doesn't contain any of the cliches that you would expect to see in a film written in the last twenty years (he doesn't display mental instability, or have flashbacks to some event in his past). He never tries to justify his pernicious occupation to anyone yet, strangely, doesn't come across as an evil man. Simply as a professional doing his job. The French police inspector is wonderfully underplayed and is as far away from the he-breaks-the-rules-but-he-gets-the-job-done cliche as you can possibly imagine. He is first seen attending to his pigeons and upon being told he is being put on the case simply says "Oh God...".... Zimmemann's direction is great and the scenes are beautifully photographed - particularly in Paris. This is an all-time great film. Definitely in my top ten. I suppose I must put something in negative so it makes for a balanced review so errr.... I think the French minister is wearing a very bad wig. Beyond that -marvelous.
Cassandra Maples
Super Reviewer
The Day of the Jackal Quotes
| | |
| --- | --- |
| Interrogator: | You're being very foolish, Victor. You know yourself, they always talk in the end. You've seen it with your own two eyes in... where was it, Indochina? And Algeria, of course. Why don't you tell us what they're waiting for in that hotel, eh? Rodin, Montclair, Casson: what are they planning, who have they been meeting? Nobody? Not a soul, hmm? Then where were they before they went to Rome, eh? Tell us, Victor. |
| | |
| --- | --- |
| Gunsmith: | Over what range will you fire? |
| "The Jackal": | I'm not sure yet but probably not more than 400 feet |
| Gunsmith: | Will the gentleman be moving? |
| "The Jackal": | Stationary. |
| Gunsmith: | Will you go for a head shot or a chest shot? |
| "The Jackal": | Probably head. |
| Gunsmith: | What about the chance of a second shot? |
| "The Jackal": | Well I might get the chance but I doubt it. In any event I'll need a silencer to escape. |
| Gunsmith: | In that case you'd better have explosive bullets. I can prepare a handful along with the gun. |