The Day the Earth Stopped
(2008)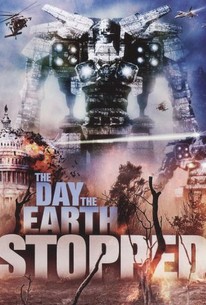 AUDIENCE SCORE
Critic Consensus: No consensus yet.
Movie Info
C. Thomas Howell and Judd Nelson star in this sci-fi thriller that finds the citizens of planet Earth forced to prove their worth or else suffer complete and total annihilation. As hundreds of enormous intergalactic robots appear in major cities throughout the world, the future of our civilization hinges on our ability to convince the invaders that our sole purpose in life isn't to spread suffering and misery while laying waste to the planet that has nurtured our species.
Critic Reviews for The Day the Earth Stopped
There are no critic reviews yet for The Day the Earth Stopped. Keep checking Rotten Tomatoes for updates!
Audience Reviews for The Day the Earth Stopped
Any movie made by the direct-to-video production company The Asylum is shit. That's a law of nature. And so why should this ridiculously titled rip off of a lame remake be any different? The acting, particularly C. Thomas Howell and Darren Dalton, borders on absurd; seeing that most of the emotions that they try to show are awkward and obviously fake. The rest of the cast, including the extras (especially a couple that they meet at the end) are laughably bad. Though there is no talent displayed in this film, there is a reason you should watch it. And that reason is Sinead McCafferty. She is unbelievably hot. Her character is a mysterious humanoid alien with no logic whatsoever, and the director acknowledges that by having her strut around nude for several minutes (boobies!) and wear very tight pants/t-shirt. Whoever wrote the script for this must have thought that they were fucking Shakespeare, because the dialogue is full attempts at clever allegories and slang. Note that I said "attempts". The characters are one dimensional and the plot progresses with no sense of reality. To be honest all of the plot twists didn't work and from the beginning to the end you're not fully sure of what's going on. This film was obviously on a low budget, and like all human beings I can accept that. But, the problem with this film is that it believes it's on a big budget. First of all, the entire film takes place in a four block radius in the outskirts of LA, and throughout many of the tedious car chases you can see them passing the same street sign over and over again. Second of all, the main characters are obviously of some great political and military importance, and it's never explained why they have to be operating from a small building in the outskirts of LA. Third of all, the special effects could have been made better by a five year old because every scene with the robots looks like a fucking Powerpoint presentation and even someone in kindergarten knows that the physics that an Atomic Bomb doesn't burst into flames and a simple handgun doesn't have a recoil that launches into the shooter's face. Perhaps the point at which this film fails the most is at how poorly it's made. I already touched on the special effects and the film editing, but there are a few more things that stick out so much that you can't help but grin. In one scene, a crazed local hijacks the main character's car because he says that their car is the only one he's seen. Seconds later, you see a car pass by in the distance. Another film fail, and my personal favorite, is the reflection of the camera crew in the car door after a final tedious car chase. Aside from these, there are many awkward silences and emotions that make most of the acting so bad that it's enjoyable to watch. I know I'm bashing the hell out of this movie, but I will admit that if I shut my brain off and wasn't expecting a total shitfest than maybe this wouldn't have been as unbearable as it was. The fight scenes, the romance, the story; there's nothing at all special about the movie, in fact it's very bleak, but if you're someone who's looking for some dumb (extremely dumb, mind you) fun, you may certainly find it here. I must say C. Thomas Howell (who also directed) must have thought himself as Jesus Christ when he made this movie, but sadly I must deny him that dream and say that this film sucks on a sub-human level. For the stupid, non-logical excuse for a science fiction epic, I give it an 18/100, but because of Sinead McCafferty and her godlike hottness, I give this a 21/100
Simeon Deutsch
Super Reviewer
The Asylum do it again. They take a recent Hollywood smash and smash it to pieces. Granted the remake of The Day the Earth Stood Still wasn't exactly great, but this film is just pure crap. It looks cheap and it feels cheap and takes itself far too seriously. At least with 10,000,000 Years BC,The Asylum had a lot of fun. Same goes for Mega Shark Vs. Giant Octopus. When characters spout out their philosophical views, morals and ethics you get this unnerving feeling that the actors are taking this seriously. Now that is scary. It did however do well in turning the main alien into a hot (in a porn star way) female.
Luke Baldock
Super Reviewer
What a lump of crap. I see the so-called super reviewers on this movie don't even know the difference between the new Keanu Reeves movie and this crapfest. OK guys, 2 totally different movies, TWO different titles. Super Reviewer my ass.
Chad Roesti
Super Reviewer
The Day the Earth Stopped Quotes
There are no approved quotes yet for this movie.