Daybreakers
(2010)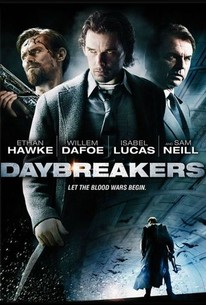 TOMATOMETER
AUDIENCE SCORE
Critic Consensus: Though it arrives during an unfortunate glut of vampire movies, Daybreakers offers enough dark sci-fi thrills -- and enough of a unique twist on the genre -- to satisfy filmgoers.
Movie Info
Fresh off the success of their inventive take on the zombie genre, Undead masterminds Michael and Peter Spierig direct Ethan Hawke in an ambitious tale of a futuristic Earth populated entirely by vampires, and the efforts made by the creatures to ensure that their food supply doesn't run out as humankind is faced with extinction. The year is 2017, and a vampire plague has turned most of the planet's human population into bloodsucking ghouls. As the population of mortals fast begins to dwindle, a vampiric corporation sets out to capture and farm every remaining human while simultaneously researching a consumable blood substitute, headed by undead hematologist Edward Dalton (Ethan Hawke). His work is interrupted after stumbling onto a pocket of human survivors lead by Elvis (Willem Dafoe), a former vampire, whose past reveals a cure that could reverse the tide and save the human race. With time running out, Dalton's only hope lies in outsmarting the security forces of his boss (Sam Neill), whose goal isn't just to find a substitute, but to repopulate humanity in order to sell its blood to the highest bidder. ~ Jason Buchanan, Rovi
News & Interviews for Daybreakers
Critic Reviews for Daybreakers
Audience Reviews for Daybreakers
In spite of its intriguing idea and a good cinematography, this is a safe movie that never goes deep enough into the possibilities of its premise, relying on many coincidences and contrivances, and with an attempt at a "message" in the end that disappoints.
Carlos Magalhães
Super Reviewer
Again I must go against many bad reviews here as I quite liked this vampire tale. Some of the ideas in this film are really good, I loved how the human race has adapted to being vampires by building huge tunnel walkways under the cities (like subways) for getting about during the daylight and how cars are kitted out with daylight protection and UV alerts. It's really quite cool and I would love my car to be like that hehe I also like the look of the vamps in this universe, simple pale faces with yellowish clear eyes that reflect light wonderfully, simple but effective and not everyone is a good looking gaunt vamp either which is more believeable. Other little bits like the death of a vampire when exposed to sunlight or struck through the heart was nice too, good explosions and ember usage although not a very original way of doing it. Much like the plot and the now overused 'world has been infected by virus leaving only a handful of resistance' story. Things I didn't like about this film was firstly the way in which Hawke changes back to a human, I don't get how that worked, he just flashes himself to the sun for a few seconds??...huh?. Second was the casting of Dafoe and his character. Willem just didn't seem into it properly if you ask me, he wasn't given much to do and his acting was beyond normal cheese levels where as the rest weren't too bad, I stress weren't too bad, Neill being the best of course. Lastly was the mutation of vampires into bat-like Nosferatu looking vampire creatures if they didn't get blood to feed on. I just felt that was stupid and not needed, why would they change into big bats??. Just about on par with the first 'Underworld', just.
Phil Hubbs
Super Reviewer
Vampirism has spread throughout humanity to the point where they vastly outnumber the normal humans who have been turned into livestock to replenish the rapidly diminishing stocks of blood. Daybreakers was a really nice surprise. In the seemingly endless parade of pointless vampire films it has a really fresh feel to it as it puts a different spin on the idea rather than rehashing the same old schtick. Ethan Hawke has made a career out of playing off beat, vulnerable anti-heroes and Sam Neill and Willem Dafoe bring their usual dominating presences to the screen which combined with some really nice production design and a smart script makes for a refreshingly different fang flick. My only reservation was with the open ended conclusion which made me think that the Spierig brothers were more interested in angling for a sequel than presenting the audience with a satisfying conclusion to the story, but as a whole it's easily one of the best vampire films I've seen of late.
Daybreakers Quotes
| | |
| --- | --- |
| Lionel 'Elvis' Cormac: | We're the folks with the crossbows |
| Lionel 'Elvis' Cormac: | We're the folks with the crossbows. |
| | |
| --- | --- |
| Lionel 'Elvis' Cormac: | Day time driving man nothing beats it no traffic no cops trouble is if you ain't carefully you can get yourself one hell of a sunburn |
| Lionel 'Elvis' Cormac: | Day time driving man nothing beats it no traffic no cops trouble is if you ain't carefully you can get yourself one hell of a sunburn. |
| | |
| --- | --- |
| Lionel 'Elvis' Cormac: | Being human in a world full of vampires is about as safe as barebacking a five dollar whore. |
| | |
| --- | --- |
| Lionel 'Elvis' Cormac: | We're the guys with the crossbows |
| Lionel 'Elvis' Cormac: | We're the guys with the crossbows. |