Giorni e Nuvole (Days and Clouds)
(2007)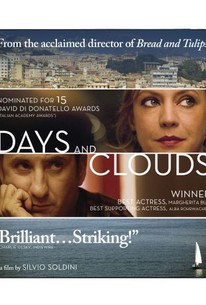 TOMATOMETER
AUDIENCE SCORE
Critic Consensus: An elegantly acted art house film about a middle class couple's struggle to hold their lives together, Days and Cloud is both sensitive and engrossing.
Giorni e Nuvole (Days and Clouds) Photos
Movie Info
In Bread and Tulips, director Silvio Soldini detailed the journey of a discontented housewife who threw caution to the wind to find true happiness in Venice; in Days and Clouds, the same filmmaker explores the opposite side of the coin by telling the tale of a middle-class homemaker from Genoa who suddenly finds her life turned upside down. Elsa (Margherita Buy) is the picture of middle-class contentment: she's happily married, well adjusted, and spends most of her spare time developing her skills as an amateur historian specializing in restoration. Recently, Elsa even decided to return to school in order to earn her degree. One day, after gently scraping the ceiling of a local chapel to reveal hidden angels that hadn't seen the light of day in decades, Elsa is informed by her husband, Michele (Antonio Albanese), that the couple will have to give up their posh apartment. Michele was formerly a partner in a successful shipping firm, but now that his partner has forced him out of the business, the happy husband and wife won't be able to maintain their current lifestyle. In the aftermath of that disheartening revelation, Elsa and Michele both try to find work while dealing with the predicament in directly opposing ways. Later, after moving into a much smaller apartment, the cracks in Elsa and Michele's now fragile marriage gradually begin to widen.
Critic Reviews for Giorni e Nuvole (Days and Clouds)
Audience Reviews for Giorni e Nuvole (Days and Clouds)
This movie goes well with our current economic downfall. It serves as a reminder that losing a job can happen to anybody, and life can change over night. In the end we have to face the reality, pick up the pieces, and move on with our life. However, It's not nearly as engaging or dramatic as other Italian flicks....it's very quiet, and not much happens.
Cynthia S.
Super Reviewer
A bit depressing, this tale tells the story of a couple dealing with job loss and shattered dreams. Michele (Antonio Albanese) is forced out of the business he started with his friend and partner. He delays telling his wife, Elsa (Margherita Buy), for two months, until after her graduation with an art degree. The film details the downward spiral as Michele loses hope and ambition and finally succumbs to what appears to be depression. Meanwhile, Elsa must put her hopes and dreams on hold as the major responsibility for the family finances falls to her. Not all is darkness, as a glimmer of hope begins to return by the end, but there is darkness aplenty here. The acting is superb. The scenery and camera work are nothing short of brilliant. The emotions are raw and palpable. The story will hit close to home for anyone facing an uncertain future in the present economy.
Mark Abell
Super Reviewer
a relevant film for these turbulent economic times. a story of loss, identity crises, reinvention, and core values. the final shots of the uncovered fresco leave the viewer hopeful.
Stefanie C
Super Reviewer
Giorni e Nuvole (Days and Clouds) Quotes
There are no approved quotes yet for this movie.