Days of Darkness
(2007)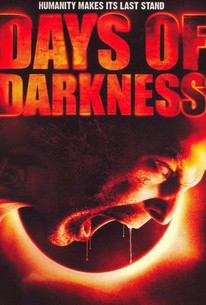 Movie Info
A civil servant gradually regresses into a fantasy world while falling for a beautiful movie star (Diane Kruger) in director Denys Arcand's (The Barbarian Invasions) dark comedy.
Critic Reviews for Days of Darkness
Audience Reviews for Days of Darkness
½
This is a pretty fuckin awesome Z-budget film. If you think this is a bad zombie movie, you ain't seen bad zombie movies. Would it be nice if there was better acting? Yeah, sure - that's always the answer for most movies though. How does this bad acting compare to typical zombie movie bad acting? It's a good 40% better than typical crap Z-movie acting, as in the acting is actually tolerable. How about the visuals? The crew hasn't got millions, and I don't actually know how much they had to work with - but the effects in this are damn cool. I like the old fashioned use of production effects, and a lot of the makeup/fx is pretty damn awesome, definitely in the higher end of Z-movies. Could the script be better and carry a bit more continuity? Almost always, but in this case, I'm too tickled by the parasite alien babies growing in zombies' scrotums and the end "solution" to the zombie plague. It's a funny and interesting Z-movie, and actually enjoyable.
_kelly .King
Super Reviewer
Hmmm.. Now, this story plot sounds familiar. It has certain elements from various flicks of the 'zombie' genre. Slightly on the gruesome side, for the fact that a henious act is committed upon a male. Although it appears to be directed towards men, in general. (Gotta watch to see what I mean). But overall, it's something you just got to see when you just need a certain form of laughter to make up for your day. Enjoy, eeeerrr....you'll see!
Days of Darkness Quotes
There are no approved quotes yet for this movie.