Days of Glory
(1945)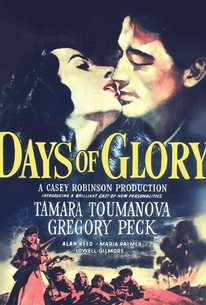 Movie Info
Like Song of Russia and Mission to Moscow before it, Days of Glory is a paean to the courage and resourcefulness of the Soviet Union during WW2 (this was long before the Russians became the stock villains in Hollywood films!) Producer Casey Robinson took a gamble with the project, casting the leading roles with movie newcomers. Heading the cast is Broadway actor Gregory Peck as Vladimir, the leader of a band of Soviet guerilla fighters. Tamara Toumanova, former premier ballerina of the Ballet Russe de Monte Carlo, costars as Nina, whose love for Vladimir is surpassed by her love for Mother Russia (Toumanova was at the time the wife of producer Robinson). The actors speak in long, lyrical monologues about freedom, sacrifice and the indomitability of the human spirit: fascinating at first, the excess verbiage begins to wear on the viewer after three or four reels. In traditional underground-movie fashion, hero and heroine are obliged to give up their own lives for the sake of their countrymen, in a reasonably spectacular climactic battle sequence. Budgeted at nearly a million dollars, Days of Glory lost heavily at the box-office, though critics and audiences alike were in agreement that Gregory Peck had some potential as a screen presence.
Critic Reviews for Days of Glory
Audience Reviews for Days of Glory
this practically unseen tourneur must have gotten buried during the cold war. featuring tourneur's biggest budget, immediately after the success of 'cat people', it's gripping and suspenseful, with great characterizations. gregory peck's debut opposite the 'black pearl' of the russian ballet, tamara toumanova, features a bit too much speechifying but it's a wonderful bit of propaganda all the same
Stella Dallas
Super Reviewer
Days of Glory Quotes
There are no approved quotes yet for this movie.