Days of Heaven
(1978)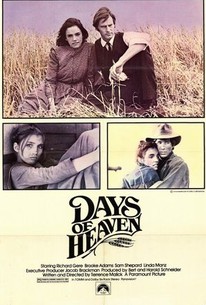 TOMATOMETER
AUDIENCE SCORE
Critic Consensus: Illuminated by magic hour glow and wistful performances, Days of Heaven is a visual masterpiece that finds eloquent poetry in its spare scenario.
Movie Info
Terrence Malick's Days of Heaven, the long-awaited follow-up to his 1973 debut Badlands, confirmed his reputation as a visual poet and narrative iconoclast with a story of love and murder told through the jaded voice of a child and expressive images of nature. In 1916, Chicago steelworker Bill (Richard Gere, stepping in for John Travolta) flees to Texas with his little sister Linda (Linda Manz) and girlfriend Abby (Brooke Adams) after fatally erupting at his boss. Along with other itinerant laborers, they work the harvest at a wealthy, ailing farmer's ranch, but the farmer (playwright Sam Shepard) falls in love with Abby, and, believing her to be Bill's sister, asks the three to stay on at his elysian spread. Seeing it as his one real chance to escape perpetual poverty, Bill urges Abby to marry the sick man. Marriage, however, has more restorative powers, and the farmer has more magnetism, than Bill had planned. "Nobody's perfect," Linda impassively observes in one of her many voiceovers, after their brief paradise is erased by plagues of locusts, fire, and lethal jealousy. ~ Lucia Bozzola, Rovi
News & Interviews for Days of Heaven
Critic Reviews for Days of Heaven
Audience Reviews for Days of Heaven
Terrence Malick is at it again, perhaps making his most "Malicky" film yet. All of his usual trademarks and themes are in place, and I've come to realize that, expcept for specific plot info, all of his movies are pretty much the same. That's not necessarily a bad thing, but perhaps it's time for him to do something really radical, like, ya know, less Malicky. Anyways, moving on. This film is set in 1916 and follows a manual laborer named Bill (Richard Gere) who, after hitting and killing his boss at a Chicago steel mill, goes on the run with his kid sister Linda (Linda Manz) and his girlfriend Abby (Brooke Adams). To dispel any sort of gossip, Bill and Abby decide to masquerade as brtoher and sister. The trio end up in the Texas panhandle where, along with a bunch of other hobos and itinerant workers, they get jobs working for a shy wealthy unnamed farmer (Sam Shepard) who is dying of some unnamed disease. Bill hatches a scheme to cash in on the farmer's fortune to help get the trio permenantly out of poverty, but things get compicated as a love triangle develops and it becomes harder and harder to conceal Bill and Abby's true relationship. Storywise, that's pretty much it. It's in the execution of things though where this film really shines. The film is absolutely gorgeous to look at, and may just be one of the most beautiful and greatest shot films of all time. It was shot during specific hours of the day, and the results are phenomenal. The visuals are very stunning and look like something straight out of a classic American rural landscape painting or something. The film is also a fairly easy one to sit through. It's not that long ,and, even though the film unfolds slightly gradually, it never drags and none of the shots really linger all that long. The music is also quite nice as well. Morricone's score is wonderful, and does an excellent job of doing variations on Saint-Saens's "The Aquarium". This is a really nice and absorbing romantic drama. Yeah it has shades of conventional plot points and ideas, but I think what really sells it on a story point is how all of the narration is done by Linda, presenting a very mature and adult story through the perspective of a detached and weary girl. Good stuff. The performances are nicely understated as well, and it seems weird to think that a (now) big name like Gere's could fit into something like this and not really stick out. Besides the visuals, the real highlight for me probably has to be the locust swarm sequence: that's just awesome and I love how it all comes together and can be both taken at face value and seen as symbolic. All in all, this is lyrical, poetic, and brilliant stuff. Plenty of films came out in the 70s that were visually arresting and moving, but this one basically takes the cake. Hats way off.
Chris Weber
Super Reviewer
A carefully constructed and nuanced Malick film, "Days of Heaven" is, at its best, a very insightful and interesting story about two people who have nothing they truly need, but at least have each other. That myopic view of their lives is glassed over thanks to the narration from lead character Bill's (Gere) sister, Linda (Manz). The fluidity and art-house nature of the film is helped in kind by Malick's decision to shoot every scene at the magic hour during twilight and dawn, with the sun hidden behind the earth and the sky made white. This beautiful time of day is the centerpiece to the entire film, as it washes all the characters in a mild glow at all times, and lends to some breathtaking cinematography from Nestor Almendros, who was going blind at the time of shooting. Malick called on the entire cast to give performances that came natural to their characters, and the film that was weaved together as a result is really quite interesting. The story itself becomes lost time and again, and you only gain footing by watching the artsy scenes and listening to the narration. It's more a film about the bitter emotions that Bill goes through while trying to do the best for the one he loves, Abby (Adams). Bill is an explosive character, not just because of his temper, but because of his devotion to Abby. He hides her in plain sight by naming her his other sister, and has to abide by his own decision to let her marry for money. It's actually quite heartbreaking to watch him squirm under the watchful gaze of her husband (Shepherd) while knowing they may never be together again. Malick doesn't poke you in the right direction, but lets you get there with careful consideration. By the end of the film you see that everything Bill tried to keep together has splintered and floated downriver, which makes his efforts all the more poignant and sad. This is an early effort on Malick's part, and one of the more astonishingly gorgeous films to be photographed in that decade.
Spencer S.
Super Reviewer
'Days of Heaven'. Terrence Malick's almost perfect exploration and adoration of nature, love and The American Dream. You can definitely see the origins of 'Tree of Life' and 'To the Wonder' in this, and it's much tighter in its focus too. Seeing a 35mm print made it all the more beautiful!
Days of Heaven Quotes
| | |
| --- | --- |
| Linda: | The rich have it all figured out. |
| | |
| --- | --- |
| Linda: | "This girl, she didn't where she was gonna go or what she was gonna do. Maybe she'd meet up wit her character. I was really hopin things would work out fo' her. She was a good friend o' mine." |
| Linda: | This girl, she didn't where she was gonna go or what she was gonna do. Maybe she'd meet up wit her character. I was really hopin things would work out fo' her. She was a good friend o' mine. |