Days of Thunder
(1990)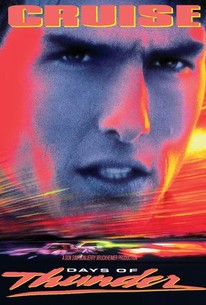 TOMATOMETER
AUDIENCE SCORE
Critic Consensus: Days of Thunder has Tom Cruise and plenty of flash going for it, but they aren't enough to compensate for the stock plot, two-dimensional characters, and poorly written dialogue.
Movie Info
The Top Gun team of producers Don Simpson and Jerry Bruckheimer, director Tony Scott, and superstar Tom Cruise reunite for this excursion into stock-car racing that incorporates the vroom and rumble of deafening car engines with a rehash of the same elements that worked so effectively in Cruise's Top Gun, The Color of Money, and Cocktail. Cruise plays stock-car driver Cole Trickle, a young fireball on the Southern stock-car circuit who has loads of talent but no conception of how to channel that talent in to racing success. When Tim Daland (Randy Quaid) commissions veteran stock-car racer Harry Hogge (Robert Duvall) to built a car and hires Cole to drive it, Harry must instill in Cole his philosophy of winning and teach him how to channel his raw talent into success -- or, as Harry puts it, "controlling something that's out of control." Cole immediately comes into conflict with the circuit's star driver, Rowdy Burns (Michael Rooker), and their hijinks on the track causes them to smash up their cars and lands them both in the hospital. Because of his injuries, Rowdy is forced to withdraw from the circuit competition. With no rival to torment, Rowdy becomes Cole's supporter and friend, while Cole revs up his motors for Dr. Claire Lewicki (Nicole Kidman), the attractive brain specialist who supervises Cole's recovery from the crackup. Cole's health is restored, and he begins to race again, chastened and hanging onto Harry's every word. Cole appears to have centered himself for success, but in an orgasmic grand finale, Cole must compete against Russ Wheeler (Cary Elwes), a dastardly driver who not only wants to see Cole defeated but permanently disabled. ~ Paul Brenner, Rovi
Critic Reviews for Days of Thunder
Audience Reviews for Days of Thunder
Like Top Gun with racing stock cars, it may not be really original and is quite predictable actually, but it has a very good soundtrack and Tom Cruise injecting a lot of energy into a two-dimensional character who lacks sufficient depth and motivation for us to care.
Carlos Magalhães
Super Reviewer
½
Dr. Claire Lewicki: You and Rowdy have the same sickness, it's called denial and it's probably going to kill you both. "Cruise like Thunder" Days of Thunder is a decent, entertaining action thriller that is extremely similar to another Tony Scott, Tom Cruise collaboration, Top Gun. The movie manages to entertain when on the racetrack like Top Gun was able to entertain when in the air, but like Top Gun on the ground; Days of Thunder suffers when away from the race track. Tony Scott can always keep the corniness coming though, with scenes like the two race car drivers racing each other in wheelchairs in the hospital after a crash.  Cole is a young and unknown stock car driver who is brought on to drive a race car for a used cars salesman and a man named Harry who has a lot of experience with stock cars is hired to build the car and lead the team. Soon Cole, after some growing pains, is one of the best drivers out there, until a crash puts him out for awhile. In the meantime, he meets an attractive doctor, who he forges a relationship with, but he struggles to get his confidence back with the race car. Like I said away from the track the movie falls apart. I like Tom Cruise and Nicole Kidman and I've seen them on screen with good chemistry before, but here it's just dead. Probably has more to do with writing then anything else as those two weren't horrible, the scenes with them together just didn't go anywhere. All in all this is a forgettable racing thriller with a solid cast and a noteworthy director who always seems to let style and "coolness" overweigh substance. Still there's always fun to be had with a Tony Scott film as longer as you're willing to accept it for what it is. It's a popcorn flick and nothing else. I wouldn't say it's worth a look, but it certainly isn't so bad you'd feel you'd wasted your time. Then again maybe you would.
Melvin White
Super Reviewer
You can't outrun the thunder. Very good movie! I enjoyed it from beginning to the end. Tom Cruise and Robert Duvall did an excellent screen combo. I think the supporting cast was good also. Very nice ending full of adrenaline! Days of Thunder revolved around a talented, hot-shot auto racing rookie, (# 46 and 51) Cole Trickle (Tom Cruise), who, after trying his hand in the American open wheel ranks, seeks to win on the NASCAR circuit. His mechanic mentor, Harry Hogge (Robert Duvall), acts as his crew chief. He also develops a romantic relationship with Dr. Claire Lewicki (Nicole Kidman), a young brain surgeon who tries to tame him. Lo and behold, just when he thought it was safe and easy to get back into a race car and drive, an arrogant and dangerous newcomer by the name of Russ Wheeler (Cary Elwes) doesn't make it easy on him as he picks on him because he knows he can get away with it since not only did he substitute drive Trickle's Pink Superflo car while Cole was in the hospital, but now he is teammates with him under the selfish, bullheaded car owner Tim Daland (Randy Quaid) as the new superstar Nascar was looking for with Rowdy Burns out.
Days of Thunder Quotes
| | |
| --- | --- |
| Jack Man Cole's Crew: | Sugar...Sugar. - asking Cole Trickle (Cruise) for sugar for coffee through ajar door. |
| Jack Man Cole's Crew: | Sugar...Sugar. [asking Cole Trickle for sugar for coffee through ajar door] |
| | |
| --- | --- |
| Harry Hogge: | You stay out of that car. If you get back in that car, you'll die. You hear? |
| Cole Trickle: | I'm not getting back in my car, I'm getting in Rowdy's. |
| | |
| --- | --- |
| Harry Hogge: | You stay out of that car. If you get back in that car, you'll die. You hear? |