Dazed and Confused
(1993)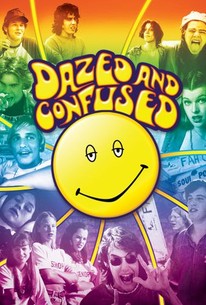 TOMATOMETER
AUDIENCE SCORE
Critic Consensus: Featuring an excellent ensemble cast, a precise feel for the 1970s, and a killer soundtrack, Dazed and Confused is a funny, affectionate, and clear-eyed look at high school life.
Dazed and Confused Videos
Dazed and Confused Photos
Movie Info
Like George Lucas' American Graffiti, Richard Linklater's Dazed and Confused is an affectionate look at the youth culture of a bygone era. While Lucas took aim at the conservative 1950's, Linklater jumps ahead a generation to the bicentennial year of 1976 to celebrate the joys of beer blasts, pot smoking and Frampton Comes Alive. Set on the last day of the academic year, the film follows the random activities of a sprawling group of Texas high schoolers as they celebrate the arrival of summer, their paths variously intersecting at a freshmen hazing, a local pool parlor and finally at a keg party. ~ Jason Ankeny, Rovi
Critic Reviews for Dazed and Confused
Audience Reviews for Dazed and Confused
Definitely bizarre and satisfying to see where today's middle-aged movie legends got their start. In past years, I've developed a respectful though sometimes lukewarm liking of Linklater's existential walky talk, and I feared that a movie about high school stoners would feel sophomoric and the filmmaking skills raw, as evidenced by what I assumed to be clumsy editing of the same floppy-haired dude into nearly every scene of the opening montage. However, upon subsequent reflection, I found the movie deeper than its billing and iconic catchphrases and realized that the editing was to show how protagonist Pink gets along with every clique. The characters go through a shared odyssey of sorts. In the course of one day, they walk the line between cool and not, ultimately finding the selves to which they wish to be true - a fitting tribute to all the seminal summer breaks before the best years of our lives.
Alice Shen
Super Reviewer
With a lack of a well-defined structure that works perfectly, it is funny and has a deliciously nostalgic feel that captures the spirit of those high school times in the '70s, and it does so with an excellent ensemble cast and a flawless soundtrack that makes it absolutely irresistible.
Carlos Magalhães
Super Reviewer
Richard Linklater has always been known for his slice-of-life type of storytelling, and in my opinion, "Dazed and Confused" represents that almost more than any film he has ever conjured up. Coming of age films revolving around high-school or college life have always been hit or miss, depending on the material the filmmakers decide to delve into, which has the chance of either heightening a film or digging it's own grave upon release. "Dazed and Confused" is among the best films in it's genre. Following graduating high school seniors as they begin their upcoming year-long trample of the freshmen, this film is more about these characters living in the moment and ignoring the harsh reality that is awaiting some of them in the coming weeks. Trying to get to a huge party by the climax of the picture, this film is the definition of a "hangout" if I've ever seen one. Released in 1993 and taking place in the 1980's, this film was a launching pad for many Hollywood actors known today in the 21st century. Ben Affleck, Matthew McConaughey, and Milla Jovovich (to name a few), definitely have Richard Linklater to thank for displaying their range with such care, even if they have to portray stoners for the majority of this picture. Exploring romance, bullying, drugs, alcohol, responsibility, and life itself, this film is able to capture everything that teenagers between the ages of fourteen and nineteen truly need to understand. "Dazed and Confused" manages to juggle all of these things while still remaining a hilarious comedy and a fun hangout picture. The risky filmmaking that Richard Linklater pulls off in almost every film he sets out to make, is always commendable, because he seems to never do any wrong with it. In films such as "The Before Trilogy," he is able to build a lifelong relationship/friendship by having two characters hangout for 90 minutes. Doing the same thing here, within 102 minutes, the viewers will be able to understand which characters are actually as they appear, which ones have been influenced, unsure, or have other issues outside of school. His dialogue is extremely engrossing, which always makes up for the lack of a full-on story. His stories are the characters most of the time, which is why he is one of the most unique filmmakers around today. "Dazed and Confused" came at the beginning of an amazing career for writer/director Richard Linklater, and it still holds up today as one of the definitive hangout films. It may be slightly slow at times if you are hoping for none-stop comedy and high school quarrels, but it takes it's time to get it's message out there. If you know what you are in for, this is a near perfect film.
Dazed and Confused Quotes
| | |
| --- | --- |
| Slater: | Are you cool, man? |
| Mitch Kramer: | Like how? |
| Slater: | Okay. |
| | |
| --- | --- |
| O'Bannion: | Oh you didn't hear? I got a shotgun pulled on my ass! |
| | |
| --- | --- |
| Kevin Pickford: | Walkin' down the hall, by myself, smokin' a jay with fifty elves. |
| | |
| --- | --- |
| Kevin Pickford: | Don, give the beer back, man! |
| Don Dawson: | I paid for the beer, man. |