Dead Alive
(1993)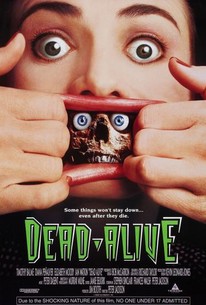 TOMATOMETER
AUDIENCE SCORE
Critic Consensus: The delightfully gonzo tale of a lovestruck teen and his zombified mother, Dead Alive is extremely gory and exceedingly good fun, thanks to Peter Jackson's affection for the tastelessly sublime.
Movie Info
Considered by many to be the goriest film ever made and one of the funniest "splatstick" horror films since Sam Raimi's Evil Dead 2 (1986), Peter Jackson's New Zealand-lensed zombie epic Dead Alive is a hilariously over-the-top splatterfest that outdoes even the director's aptly-titled Bad Taste (which featured such gag-inducing sights as communal vomit-eating, exploding sheep and a chainsaw C-section). The story centers on a milquetoast mama's boy (Timothy Balme) whose budding romance with the lovely Paquita (Diana Penalver) is severely tested by the rapid decomposition and increasingly gross behavior of his oppressive mother (Elizabeth Moody), whose recent encounter with a "Sumatran Rat Monkey" transforms her into a rabid, flesh-eating zombie. Unable to bring himself to chop his undead mum into little pieces, he tries vainly (and disgustingly) to keep her alive until she begins chowing down on everyone within reach -- but even a dutiful son's love has its limitations. Concentrating his efforts on imprisoning her and the growing legions of her undead victims in the cellar -- away from both the nervous Paquita and the prying eyes of a greedy uncle (Ian Watkin) who has his sights on the old lady's inheritance -- he finally begins to realize that the whole affair is going to end very, very badly. Jackson's hyperkinetic directing style and the laugh-a-minute script lend a jovial, throw-away feel to the literal avalanche of sticky gore (the lawnmower climax must have set some kind of record for sheer blood volume) and severed limbs & organs splashing across the screen (there's even a fine bit of acting from a constantly-flatulent pile of intestines) with such gleeful abandon that it all becomes one enormous, tasteless joke. Although it certainly limits the range of its audience appeal (i.e. anyone who laughed out loud at the "Mr. Creosote" skit in Monty Python's The Meaning of Life will be delighted), Dead Alive is great fun for horror buffs with a well-disciplined gag reflex. Believe it or not, Jackson followed this film with the elegant, tragic art-house hit Heavenly Creatures (1992).
News & Interviews for Dead Alive
Critic Reviews for Dead Alive
Audience Reviews for Dead Alive
If only somebody had the insight, the verve, to create a zombie soap opera ... something like: My Ma Is A Zombie!!!, only make it so over-the-top that nobody would take it seriously. Yeah. The only thing that'd stir it up even more would be to give everyone Aussie accents, that'd be my thinking ... only I'd be too late. Peter Jackson has already made that movie, and this is it, the gory-est gorefest going on the planet. Think front row at a Gallagher show, and then multiply that by 20, no, 50. You're gonna need to be in the mood for this, that's my thinking. Say 13 or 14 years old.
Kevin M. Williams
Super Reviewer
½
[img]http://images.rottentomatoes.com/images/user/icons/icon14.gif[/img]
Directors Cat
Super Reviewer
Who would have thought that Peter "Lord of the Rings" Jackson started his career off by making campy, gory horror schlock films like this? This film, despite the copious and over the top amounts of blood and gore, is actually quite hilarious and enjoyable. The plot follows a village dweeb who tries to have a budding romance, while also trying to conceal the fact that his overbearing mother is a flesh-eating zombie. The tone of the film is deliriously cartoonish and over the top.I think that's what makes it surprising considering that it's also probably the goriest film I've ever seen, if not the goriest of all time. Seriously. I can't believe how gruesome and messy this film gets, and I actually feel even more twisted for finding it all so friggin' amusing. The effects are very well done, and really make you appreciate the effort that goes into this sort of thing. The acting is also surprisingly really good, and there's some good lines, too.
Chris Weber
Super Reviewer
Dead Alive Quotes
| | |
| --- | --- |
| Father McGruder/Zombie McGruder: | The devil is amongst us. |
| | |
| --- | --- |
| Uncle Les: | I see you've come across your uncle's old stag films. Is this the one with the donkey and the chambermaid? |
| | |
| --- | --- |
| Father McGruder/Zombie McGruder: | Stand back boy, this calls for divine intervention! |
| | |
| --- | --- |
| Lionel: | They're not dead exactly, they're just... sort of rotting. |