Dead Before Dawn 3D
(2013)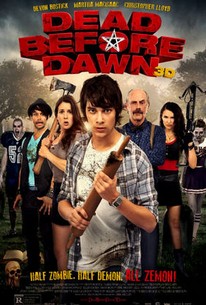 AUDIENCE SCORE
Critic Consensus: No consensus yet.
Dead Before Dawn 3D Photos
Movie Info
Dead Before Dawn 3D follows a bunch of college kids who accidentally break an evil urn and end up inadvertently creating a curse that causes everyone they make eye contact with to kill themselves and turn into Zombie Demons, aka ZEMONS! Now, with only 24 hours to reverse the curse and the fate of the entire world resting on their shoulders, our heroes race through the night in a bloody Winnebago, armed with a slew of homemade weapons, avoiding eye contact, dodging hicky's and seducing Zemons. Will our heroes be able to reverse the curse and save the day or will all of humanity be Dead Before Dawn?! Zombieland meets the Goonies in this blood soaked horror comedy that pits college kids against ZEMONS, the newest monster to join the horror creature lexicon.(c) Official Site
Critic Reviews for Dead Before Dawn 3D
Audience Reviews for Dead Before Dawn 3D
½
I don't expect this to be a very long review. Not exactly sure whether to give this film 2.5 or 3 stars. Either way, regardless of the rating I give the film, I still had quite a bit of fun with this movie. It's got a fun cast that was clearly having a blast and some pretty clever moments. But, personally, I think the cast did a great job at elevating the material because I can imagine not being impressed if I had read the script. And the story is actually pretty tragic, for the most part at least until the end which is one of those deus ex machina-type endings that kinda works here but wouldn't work in any other movie. Casper loses everybody in his life, his father as a child and then his mother, grandfather, best friends all after the curse begins. The movie rectifies all of that by, MASSIVE SPOILER, pressing rewind on everything, that happened and taking everybody back to Casper's grandpa's occult shop where everything originated. Literally, they press rewind and you get to see past scenes. It's a little bit too perfect for my tastes, there wasn't any real consequence to any of their actions in setting off this curse, but this movie was meant to be silly and fun so I get that it didn't want to have a serious ending where the curse is over but everyone is dead and Casper would have to live with the guilt for the rest of his life. It wasn't that type of movie, so I get it. It still didn't really do much for me, hence why I probably gave the film 2.5 stars. Combined with the fact that I think the film could've been shorter, there were some stretches there that could've definitely been cut out. Because of that, the film gets the rating it did, but I still think the film fulfills its purpose of entertaining you. I definitely had fun watching this movie, even if I didn't think it was perfect. This is a good choice if you want something easy and fun to get through. It's not gonna set the world on fire, nor is it gonna make you a horror fan if you aren't one already, but it is a fun little movie for about 85 minutes and that's all that it wanted to be.
Jesse Ortega
Super Reviewer
Dead Before Dawn 3D Quotes
There are no approved quotes yet for this movie.