Dead Calm
(1989)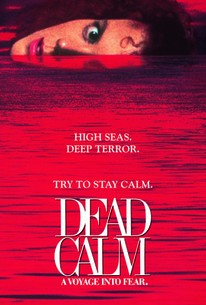 TOMATOMETER
AUDIENCE SCORE
Critic Consensus: Nicole Kidman's coiled intensity and muscular direction by Phillip Noyce give this nautical thriller a disquieting sense of dread.
Movie Info
While on a yachting expedition on the open seas, a married couple encounters a wrecked vessel and rescues the sole survivor. The couple soon discovers that the seemingly harmless survivor is actually a vicious murderer, and a tense showdown on the open seas follows in this tense thriller.
News & Interviews for Dead Calm
Critic Reviews for Dead Calm
Audience Reviews for Dead Calm
Everyone does alright in delivering the goods in this economical tale about being stuck in the middle of nowhere with a psycho who likes you. The question becomes: how long can it last?
Kevin M. Williams
Super Reviewer
'Dead Calm' is invariably similar to 'Ravenous' insofar as an isolated, seemingly impotent stranger is found adrift and recapitulates a macabre tale of survival when, in actuality, he is the perpetrator of the crimes. But 'Dead Calm' accelerates at an exponential rate due to the increasingly claustrophobic setting aboard the sailboat. Before we are submerged into the cat-and-mouse brinksmanship with Hughie, we are introduced to the saturnine backstory of how John and Rae are bereaved over their toddler son's death in a car accident (which is shown in assaultive, exploitative explicitness). Dean Semler's cinematography of The Great Barrier Reef is a portrait of seafaring mirages that harbors a sense of dread. The marital friction infuses the film with unease and we wholeheartedly sympathize that John adjudicates that an oceanic voyage would be a remedial exercise while Rae silently abhors it (she castigates the trip in her diary). At times, it feels stagy with the contrivances around being stranded on the boat but those instances are nugatory at best. 'Dead Calm is wickedly Hitchcockian entertainment with a brilliantly prickly performance by Zane who is a mannered basket-case of flinching body language until he exposes himself to be a wolf in sheep's clothing.
Cory Taylor
Super Reviewer
Rae Ingram: You know what I'd love for lunch? Fresh asparagus, then, um, pasta - angel hair pasta with heaps of basil, garlic, olive oil and, um, apple pie. Yeah. Uh, John, have you got a towel?  "In the middle of nowhere there is nowhere to hide." Wow, I've seen people talk this movie up as not only a great film, but as one of the better thrillers of the 80's. In order to have a good thriller, it is imperative that the film be thrilling. Dead Calm is not. It fails in just about everything it tries to do. There's no tension, no suspense. It is all underplayed to the point of boredom. How Phillip Noyce could fail to make this scary or in any way suspenseful is beyond me. First off, I should probably get my biggest gripe out of the way early, just as the movie does. It starts out with a stupid and pointless scene where we see that a married couple lost there son in a car accident. We see the accident, we go to the hospital, and we think that this is probably going to have something to do with the rest of the movie. Some how this is going to fit in. No, it really doesn't. I'll admit, I probably wouldn't have liked the movie anymore, had this beginning been taken out, but I would have respected it more. So after the death of their son, John and Rae go for a relaxing sail by themselves in their beautiful yacht. They've been out at sea for three weeks and haven't encountered another boat, until they see one of in the distance one morning. A man rows from that boat over to theirs and tells them that the rest of the crew was killed by canned salmon and that the ship is sinking. He lied, and when John finds out, the stranger flees with his wife. It sounds scary, it sounds entertaining, but it is not. I love Sam Neill and Nicole Kidman both, and a young Kidman is certainly nice to look at, but both aren't used to their capabilities. Then there's Billy Zane as the stranger. That is where everything goes extremely wrong. Zane overplays this role at times where he shouldn't and when his character should be going nuts, he's low key. I was never afraid of him once. It didn't matter that I knew what he did and what he was capable of. Zane just never created the tension his character needed to exhibit. A good setting and a worthy story are wasted in Dead Calm. I still can't comprehend how this went wrong, but it did. A complete disappointment from start to finish.
Melvin White
Super Reviewer
Dead Calm Quotes
There are no approved quotes yet for this movie.