Dead End
(1937)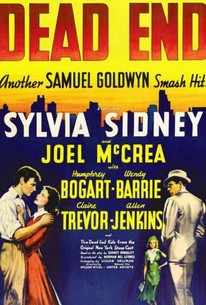 Movie Info
Adapted by Lillian Hellman from Sidney Kingsley's Broadway play, Dead End concerns itself with several denizens of New York's East River district. Here the elite and the slum-dwellers rub shoulders due to the close proximity of the riverfront tenements with the East Side luxury hotels. Slum girl Drina Gordon (Sylvia Sidney) tries to prevent her younger brother Tommy (Billy Halop) from wasting his life as a member of the local street gang. Tommy and the other kids idolize Baby Face Martin (Humphrey Bogart), a onetime East- sider who has hit the "big time" as a notorious gangster. Dodging the cops, Martin makes a sentimental journey to the neighborhood to visit his mother (Marjorie Main) and his old girlfriend Francie (Clare Trevor). But Martin's mother coldly tells him to get lost, while Francie reveals herself to be a consumptive prostitute. Despite his depressed state, Martin is still admired by the local kids; this displeases sign painter Dave Connell (Joel McCrea), who hopes to escape the slums via his romance with wealthy Kay Burton (Wendy Barrie). Attempting to kidnap a rich boy who'd earlier been beaten up by the street kids, Martin is prevented from making the snatch by Dave, who shoots Martin down. Receiving a large reward, Dave decides to give the money to Drina so that she can afford a lawyer to defend her brother Tommy, who has wrongfully been accused of masterminding the beating of the rich kid. His outlook on life altered by this unselfish act, Dave gives up his mercenary romance with Kay Burton, choosing instead the poverty-stricken Drina. The film introduces the Dead End Kids--Billy Halop, Leo Gorcey, Gabe Dell, Huntz Hall, Bernard Punsley and Bobby Jordan--all of whom were veterans of the Broadway version of Dead End and would be metamorphosed into the East Side Kids and The Bowery Boys.
Critic Reviews for Dead End
Audience Reviews for Dead End
Dated but excellently acted drama.
I recently picked up a copy of Dead End from a market stall and was pleased I did. A gangster, "Baby Face" returns to New York's Lower East Side, where he grew up. He goes to visit his mum and ex girlfriend, but they are not pleased to see him. He then gets involved in a shootout which claims his life. We also see what the Dead End Kids get up to and they course plenty of trouble. Two of the residents also fall in love with each other. This movie gives you an idea on what life was like in this period in New York's poorer Lower East Side and the rich peoples' apartments are overlooking this slum area. The cast includes an excellent performance from Humphrey Bogart as Baby Face and is joined by Sylvia Sydney (Sabotage), western star Joel McCrea, Claire Trevor (Key Largo, which also starred Bogie), Wendy Barrie and a brief appearance by Ward Bond. Dead End is worth watching, a good way to spend 90 minutes one afternoon or evening.
Cassandra Maples
Super Reviewer
½
pretty melodramatic. supporting characters are much better than the main story here. ma kettle is one cold hearted bitch, the punk kids are fun and an extra half star for claire trevor :)
Stella Dallas
Super Reviewer
Dead End Quotes
There are no approved quotes yet for this movie.