Dead Europe
(2012)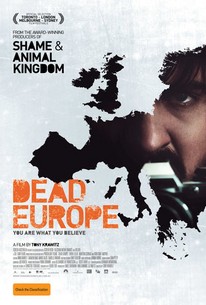 Movie Info
Australia's Tony Krawitz (Jewboy, The Tall Man) directs the adaptation of The Slap author Christos Tsiolkas' award-winning novel in this searing film about history, guilt and secrets. Ewen Leslie delivers a great performance as photographer Isaac, whose father's death in suburban Sydney reveals the schism in his family and prompts a return to the ancestral homeland. On a trip to his parent's village in Greece, he learns something of his father's cursed history. At first he dismisses the revelation as superstitious nonsense, but over the course of his travels - from Greece to Paris to Budapest - Isaac is forced to confront the anti-Semitism of the past, the embedded bigotry in the bones of Europe and the nature of inherited guilt. It is on this fateful trip that Isaac will learn the truth of his family's migration to Australia, their refusal to ever return to Greece, and the burden he continues to bear as a consequence of acts committed years before his birth. Krawitz sensitively depicts this clash of mythology and a very contemporary reality in this daring and enigmatic film populated by spirits and outcasts.
Critic Reviews for Dead Europe
Audience Reviews for Dead Europe
½
My last film for MIFF was definitly one of the more interesting ones. Adapted from Christos Tsiolkas's novel, It follows Issac (Ewan Leslie) an Australian son of Greek Parents, works as a skilled photographer and has his own gallery. While he's planning to visit Greece himself this conflicts with his family's dark past. what follows is Issac's journey to discovery what they've been hiding and the meaning of a mysterious curse thats been linked to the death of his late father. I do have some problems when it comes to undertanding the themes of Tsiolkas' fictional story, thus in the film's plot I failed to emotionally connect yet sympathise with many of the film's major characters. I have no criticisms however to Tony Krawitz's Direction and the cinematography of the film; making a very pretty cultural portrait of Greece and other countries. I also have no criticisms to the acting, it was well casted and supurbly acted. Kodi Smit-McPhee's character was probably the only one who you could sympathise with because of how well his character was written and acted. overall I thought Dead Europe was very good, but I can't say I really liked it.
Luke Eberhardt
Super Reviewer
Dead Europe Quotes
There are no approved quotes yet for this movie.