Dead in Tombstone
(2013)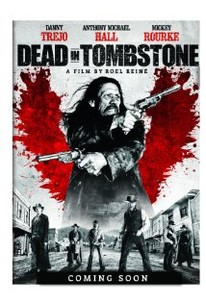 AUDIENCE SCORE
Critic Consensus: No consensus yet.
Movie Info
Danny Trejo (Machete), Anthony Michael Hall (The Dark Knight) and Oscarr nominee Mickey Rourke (The Wrestler) star in this unrated, action-packed battle for vengeance. As a ruthless gang overruns a small mining town, they murder their own leader, Guerrero Hernandez (Trejo), in a cold-blooded power grab. Sentenced to eternity in hell, Guerrero finds himself confronted by Satan himself (Rourke), offering a daring proposition: deliver the six souls of his former gang and he will escape damnation. With time running out, he sets out on a brutal rampage to avenge his own death!
Critic Reviews for Dead in Tombstone
Audience Reviews for Dead in Tombstone
½
Not really an original film title is it, mind you its not really an original film lets be fair. But should you go expecting anything fabulous from a straight to DVD western starring Danny Trejo and Mickey Rourke?. A badass group of outlaws rob a bank...as they tend to do. After they achieve this the group turns on their leader Trejo and guns him down...right down to hell. Yep that's right, just when you think it might be a simple cowboy flick you get a supernatural twist thrown in your face. So Trejo makes a deal with the overweight devil Rourke, the deal? to come back to the world of the living and kill the six other outlaws, six souls for the devil. He must do this within 24 hours to regain his soul and life otherwise he must endure a tubby Rourke torturing him forever, and that's along time. The plot just doesn't make much sense to me, why would the devil allow this one guy to have a chance at killing his murderers?. Surely in that age in the west there would be hundreds of deaths at the hands of bad people, does he allow everyone this deal? or was it just for his own amusement because he liked Trejo's character?. I just don't see why the devil would be that bothered about six souls when he probably gets ten times that every day, I guess I'm thinking into this too much. The plot is pretty similar to 'The Crow' really but lets be frank its a generic commonly used theme in most genres. The best thing about the film is the visuals I guess, it does look quite authentic with good locations and the town of 'Tombstone/Edendale' is actually quite big and impressive looking. It looks like they spent all their budget on the sets and costumes if you ask me. Gun slinging wise the action is crude and a bit hokey really, there is plenty of that old 90's John Woo style nonsense going on with no shortage of explosions...big explosions. Its also a bit too dark at times for me, way too much shadow as they clearly attempt a more dramatic artistic look, hey kudos for trying. I find the whole thing swings in appearance from TV movie level visuals to full blown movie level visuals. The horse/carriage chase sequence looked stupid simply because you can easily tell nothing is moving very fast, in fact they are all 'galloping' very slowly behind a very slow carriage hehe. Sometimes you can see the pistols aren't really doing anything and the actors are whipping them around a bit unconvincingly, oh and I love how they keep on shooting way past their six bullet limit. The devils lair of hell seems to be a simple medieval stonewalled basement with an open fire and the devil himself in Rourke looks very errr...normal but fat. Its definitely better than your average trashy flick and it could become a bit of a cult western thriller for sure. The acting is good enough, reasonable amounts of claret on display, decent atmosphere and some nice eye candy. It is of course completely cheesy, corny, cliched and somewhat artificial throughout.
Phil Hubbs
Super Reviewer
½
Maybe it was just the rose tinted glasses of comparison, but I actually kind of liked Dead in Tombstone. I don't think it's particularly good, or even original (one of about a hundred films that may as well bear the tagline "He's back from Hell with a vengeance!") but it did entertain me. And in the entertainment industry, isn't that really the most important thing a film can be? The Old West setting was not too narrow, and yet still believable. It was a straight-to-video release, so the acting didn't have to be up to standard, but it was (not "great" but up to standard). The costumes were actually kind of great and for the most parts the sets/locations didn't suck either. Dead in Tombstone is hardly gonna win any awards, or even a genuine recommendation from me, but it's good for what it is. It's low-budget, straight-to-video, trashy, claret-driven, unoriginal, thin on narrative and takes itself to seriously. So saying that it's good for what it is may not be much praise, but it's praise that goes unearned for many releases with fifty times the budget. Should you give Dead in Tombstone a chance? Probably not. But it's a clean piece of cinema that will enrich your life to the sum of zero, and that's gotta be worth something. 48% -Gimly
I had high hopes for Dead in Tombstone. By the looks of the trailer, this looked like it would be a thrilling, action packed Western with an engaging story. Unfortunately, the film ends up being a mediocre affair. The problem with the film is that it has an interesting idea, but it relies on a formulaic script that is just dull in terms of execution and there are no standout performances and the action scenes are sloppy with no sense of how to convey something truly exciting a fun. Dead in Tombstone could have been a good movie, but it just doesn't deliver anything good. This is just a boring movie that had plenty of potential, but it just ends up wasting it for a predictable type of action film that has some poor performances. The film should have been memorable; however it just ends up falling flat. The cast do what they can with the material, but it's a predictable affair that just doesn't add anything new to the formula to make it interesting. Dead in Tombstone started off well, but it quickly just ended up being a film that wasn't interesting and the performances were ridiculous, almost laughable. For a low budget action Western, Dead in Tombstone simply doesn't deliver and it's a shame because it had the potential of being a much better movie than what it turned out to be. Don't go into this one expecting a great film, you'll sadly be disappointed, keep your expectations low, and you may enjoy it. In terms of mindless viewing, it may appeal to some viewers, but it won't satisfy the hardened action buff wanting some substance with memorable action, which this film lacks. Dead in Tombstone is a mediocre affair that should have been better.
Dead in Tombstone Quotes
There are no approved quotes yet for this movie.