Dead Like Me: Life After Death
(2009)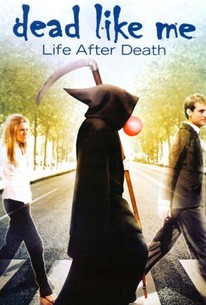 AUDIENCE SCORE
Critic Consensus: No consensus yet.
Dead Like Me: Life After Death Photos
Movie Info
The strict reaper rules take a backseat to moving souls quickly and enjoying an existence without consequence when George and her colleagues get a new boss in this feature continuation of the cancelled television series Dead Like Me. There's a new boss in town, and that means a whole new way of operating for George and her fellow reapers. At first it seems like a blessing to see the rules relaxed a bit, but before long the gang discovers that death can be just as complicated as life. Now, while George's friends are all seduced by the allure of success, money, and fame, she makes the mistake of revealing her true identity to her living family. Whoever said death was easy, anyway? ~ Jason Buchanan, Rovi
Critic Reviews for Dead Like Me: Life After Death
All Critics (3) | Fresh (2) | Rotten (1)
Hopefully this direct-to-DVD shot does well enough for the studio to venture out into the afterlife again to make another installment.
Life After Death is a disappointing continuation and maybe letting go will be for the best rather than let it continue at an inferior level.
Audience Reviews for Dead Like Me: Life After Death
Good straight to DVD film that concludes the series Dead Like Me. Being a fan of the series, I found this film to be enjoyable yet flawed. The biggest problem I had with the film was the fact that Laura Harris didn't reprise her role as Daisy Adair. The actress playing the character is horrible and really doesn't do the character justice. The film had its moments, and focused on aspects I found to be very good. The story with Reggie, George's sister and her trouble with dealing with the imminent death of her secret boyfriend, and how George tries to prevent her sister from killing herself and seeing that she's got plenty to offer. For me that was the highlight of the film, and it made the film better even with all its imperfections. I thought that the filmmakers could have focused more on that part of the film instead of rushing it. Dead Like Me: Life After Death is something new and is an average ending to the previous two seasons. I liked it, but I felt it could have been better. As a fan of the show, I didn't think this was the worst ever, but I felt that the script could have used a few rewrites here and there to get the good ideas out. There were a few good ideas on-screen, but it has a lot of wasted potential in being a great film. The film certainly is better than most straight to DVD outings, but like with every other fan of the show, I didn't like the absence of Rube, the new Daisy and the new boss Cameron. The whole plot with Reggie was wonderful, and it was really the heart of the film. A good little flick, but it does leave a lot to be desired. Like I said there a few redeeming aspects of the film, unfortunately it's nowhere near as good as the series. However for what it is, it's worth seeing.
½
DUDE DLM = I'm so there. *** Post-viewing edit: All DLM fans will see this as the unthinkable, one last lengthy as fuck episode drawn out to answer some questions that left us pondering and make us laugh again with old friends. A sweet little story, mixed with enough of that reaper humour we so miss. :]
Bannan instant enigma- just add water
Super Reviewer
½
A disappointing epilogue to another great cancelled-too-soon show. It's always a pleasant surprise when a show gets a posthumous chance to wrap things up or even just continue the story after its run has ended. But here they may have been better off letting things be. Two of the five leads are missing - Sarah Wynter takes over as Daisy, but is a pale imitation of Laura Harris' version. Mandy Patinkin's Rube has simply been written out. Instead they introduce Cameron, played by "Lost"'s own Desmond, Henry Ian Cusick. So much potential here, but his character is barely present, never really explained, and is just a waste of viewers' time and Cusick's talent. The plot can't decide if it wants to simply be another episode of the show or something bigger, and spends its time waffling between the two, so it fails on both counts. It just barely touches on some larger issues and ideas, and then suddenly decides to wrap that up and get back to a simpler story. Still, I guess I'd rather see a less-than-stellar "Dead Like Me" than none at all. It was a fun show with an entertaining cast of characters. I only wish the movie could have stayed more in line with the original series' quality and writing.
Martin Bishop
Super Reviewer
Dead Like Me: Life After Death Quotes
There are no approved quotes yet for this movie.