Dead Man on Campus
(1998)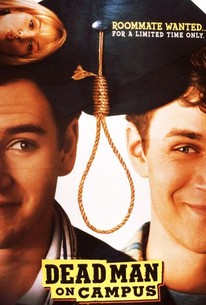 Dead Man on Campus Photos
Movie Info
In this comedy, two freshman discover that the first year of college can be rough if you have too much fun. Desperate and fearing failure, the two discover an arcane loophole buried in the college charter that might allow them to escape with straight As.
Critic Reviews for Dead Man on Campus
Audience Reviews for Dead Man on Campus
½
Somewhat decent, but very forgettable comedy, Dead Man on Campus is a fun comedy that though flawed manages to be entertaining. The story isn't anything great, but for the most part it brings on a few laughs. This is a film that is mindless fun. I enjoyed the film for what it was, a mindless entertaining romp that brought decent laughs. The film is not meant to be a great comedy,. I enjoyed the shear silliness of this film, and thought it was fun. The cast do a fairly decent job. Dead Man on Campus is one of those comedies that is perfect to watch with friends and have a good time. The jokes are good, never anything great; but most of the time it makes you laugh. Dead Man on Campus is underrated and though far from the worst comedy, it's not the best either The film is a decent film to watch and like I said, the film had its moments. The cast are fun to watch and obviously the key performance here is Lochlyn Munro as Cliff. He made the film better. Although Munro isn't a great actor, he manages to bring something worthwhile to the screen. This film is meant as a mindless comedy that shouldn't be taken seriously whatsoever. The film is no Hangover, but it manages to deliver good entertainment for what it is. I enjoyed the film, and I found it quite amusing despite its imperfections. Dead Man on Campus is a mindless comedy worth watching if you're in the mood for something a little dumb. Once in a while it's worth watching something stupid. Not the best comedy, but far better than films like Freddy Got Fingered and Biodome.
One of the better American college movies due to a great and simple premise "If your roommate dies, you get an A", which makes for a great comedy.
Ross Collins
Super Reviewer
Several hilarious moments that induced such intense laughter that I cried.
Taylor Bond
Super Reviewer
Dead Man on Campus Quotes
There are no approved quotes yet for this movie.