Dead Man's Shoes
(2006)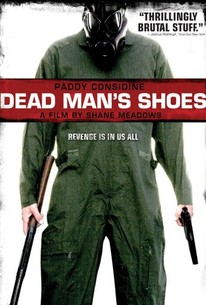 TOMATOMETER
AUDIENCE SCORE
Critic Consensus: Though enhanced by cramped, gritty camerawork, this unsettling look at violence and revenge lacks the provocative edge needed to give it a substantial kick.
Movie Info
Richard has always protected his simple-minded little brother Anthony. When Richard leaves the rural village where they have grown up to join the army, Anthony is taken in by Sonny, a controlling and vicious local drug dealer and his gang of lads. Anthony becomes the gang's pet and plaything. Seven years later, Richard returns to settle the score. One by one, he hunts down each member of the gang and executes them in increasingly elaborate ways as flashbacks reveal the extent to which his brother suffered at their hands. "Dead Man's Shoes" is a genre-defying film blending horror, supernatural elements, comedy, and social realism. Set in a Midlands village, it explores the underbelly of contemporary rural Britain in communities where crime is unchecked and drugs, intimidation, and power games are blandly accepted as the fabric of daily life.
Critic Reviews for Dead Man's Shoes
Audience Reviews for Dead Man's Shoes
½
Five years after their first collaboration on 1999's A Room for Romeo Brass, Paddy Considine and Shane Meadows penned a script together about some of the memories and experiences they remembered from their working-class backgrounds. Although they were obviously embellished, the result led to Dead Man's Shoes - a visceral and uncompromising tale of vengeance that became an instant cult hit and still stands as some of the best work they've ever produced. Plot: Disaffected soldier Richard (Paddy Considine) returns home from military service to his home town in the Midlands with revenge on his mind. While he was away, local thugs and bullies physically and psychologically tortured his mentally challenged brother. Anthony (Toby Kebbell) and Richard intends to make them pay. At first, he toys with the gang and and sets out to just just frighten them but it's not long before he steps up his military guerilla tactics to pick each of them off, one by one. Going by the title and the film poster, I remember my first impression of Dead Man's Shoes being one of a cheap budget slasher. As a result, I avoided it for a few years until I could no longer ignore the positive word-of-mouth that I had been hearing or the rising reputation of its director, Shane Meadows. To be fair, it's a classic case of never judging a book by its cover as it turned out to, not only, be different from my expectations but it surpassed them. Meadows' dark, revenge thriller benefits from his fly-on-the-wall and authentic style of storytelling that comfortably combines the kitchen-sink drama's of Ken Loach with the snare and disturbing elements of horror that Ben Wheatley has become known for. For many, Shane Meadows is a filmmaker that has yet to be uncovered but his most well known film This Is England (and it's resulting TV mini-series') have rightly gained a lot of critical appreciation but it's probably fair to say that he hasn't quite achieved any international recognition. Either way, Meadows always strikes me as a filmmaker that is most comfortable on his own patch and regardless of recognition, I wouldn't change that. His films always have such a genuine ability to capture working-class lifestyles - much like the aforementioned Loach or Mike Leigh. In fact, it's this approach - when combined with a depraved and violent narrative arc - that makes Dead Man's Shoes all the more effective and chilling. The setting, the mood and the characters all feel authentic and Meadows draws some excellent performances from the entire cast, regardless of how small their role. That said, there are three particular performances that really stand out; former British boxer Gary Stretch is hugely effective as the gang's shady leader while Toby Kebbell is remarkably good at capturing the young innocent with learning disabilities that's the catalyst for the mayhem that ensues. All in all, however, the film belongs to Paddy Considine with his dynamic intensity echoing a Taxi Driver era DeNiro. One minute he's tender and loving, the next he's a vengeful and explosive maniac and the role provides Considine the opportunity to express his range to full effect. Although the initial premise may seem a little far-fetched, the delivery of it is certainly not. This is raw and unflinching filmmaking that has a palpable feeling of dread and danger throughout its entirety. It's also not a simple as the vigilante premise would suggest. Meadows toys with our perspective of sympathy by allowing us to get close to the three-dimensional characters and never makes any black-and-white judgements. It's this approach that brings a genuine sense unpredictability in how the film plays out. A dark, compelling and thoroughly satisfying thriller that benefits from measured pacing, a solid cast and a searing central performance from the hugely talented Considine. Shane Meadows is one the boldest English directors working at present and this is arguably his best film to date. What may seem like a formulaic revenge story results in a complex psychological parable that packs a genuine punch. Mark Walker
Mark Walker
Super Reviewer
Revenge stories are a dime a dozen in the cinematic landscape; a subject often used but rarely to the effect of director Shane Meadows' "Dead Man's Shoes." This is a great film, with grit and punkish lo-fi sensibilities that strengthen an already harrowing character piece. Amazingly written (and highly quotable) dialogue abound and highlight the terrific, multifaceted performance of Paddy Considine. A powerful slice of low-budget filmmaking.
The ultimate story of revenge. This movie is powerful and gripping in every way. It is saddening in many parts, and will make you think twice before you ever think of being mean to someone again.
Eric Alvarez
Super Reviewer
Dead Man's Shoes Quotes
| | |
| --- | --- |
| Richard: | [narrating] God will forgive them. He'll forgive them and allow them into Heaven. I can't live with that. |
| | |
| --- | --- |
| Richard: | If I were you, I'd get in that fuckin' car and I'd get out of here, man. I'd gather them goonies and get whatever you've got and come at me, cause I'm gonna fuckin' hit you all. |
| | |
| --- | --- |
| Richard: | They're all dead. I executed them. |
| | |
| --- | --- |
| Herbie: | Can I help you mate? |
| Richard: | [shrugs] Sorry? |
| Herbie: | [aggressively] What the fuck are you looking at? |
| Richard: | [shouts] You, ya cunt! |