Dead Mary
(2006)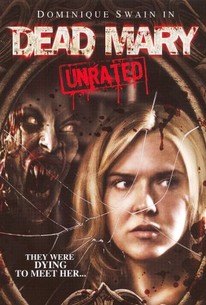 AUDIENCE SCORE
Critic Consensus: No consensus yet.
Movie Info
An unassuming group of vacationing high school students incurs the wrath of a relentless supernatural killer in this tale of terror from beyond the mirror starring Dominique Swain. They had no idea that such an innocent rhyme could conjure up so much death, but as the woman with an insatiable appetite for death methodically begins claiming their lives on by bloody one.
Critic Reviews for Dead Mary
Audience Reviews for Dead Mary
½
The opening will put you to sleep. Some where about forty minutes in, a good premise begins to develop, but since the most interesting character dies first, you stop really caring what happens. Much wasted potential.
Anthony Valletta
Super Reviewer
This is quite a good horror film that does borrow a lot from other films like Bloody Mary, Cabin Fever and a few others. It's a little slow to start and it won't please gore fans, but it was much better than I expected it to be.
Very impressive indeed. The beginning starts off with no dialog and yet still tells us about a lot of stuff through the visuals. The cinematography is fantastic, desaturated and highly professional it puts most horror films to shame. Great directing keeps the build up almost painfully slow but always tense. The decision to make these characters young adults as opposed to regular teen fuckheads also made time for real relationships and real reactions to what was going on. Finally the acting was brilliant, very believable and for all it's hard effort this should have gotten a main cinematic release and been much more successful. Being more of a psychological drama and character study than an all out horror results in the final act stumbling a bit as the monster/witch/demon/infection begins to take center stage.
Luke Baldock
Super Reviewer
Dead Mary Quotes
There are no approved quotes yet for this movie.