Dead Men Walk
(1943)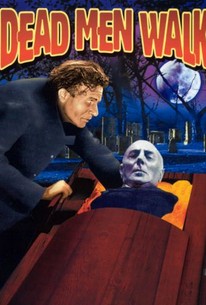 AUDIENCE SCORE
Critic Consensus: No consensus yet.
Movie Info
Filmed on what looks like a budget of $17.95, Dead Men Walk has its own seedy charm, and is one of the most entertaining of the PRC horror quickies. The incomparable George Zucco plays a dual role, as village doctor Lloyd Clayton and his brother Elwyn, also a doctor. When Lloyd murders Elwyn, the latter returns from the dead as a vampire, with the help of hunchbacked assistant Zolarr (welcome back, Dwight Frye!) Elwyn goes on a killing spree, for which Lloyd is held responsible. A lynching is averted when heroine Gayle (Mary Carlisle) and hero Dr. Bentley (future screenwriter Nedrick Young) prove that the dead Elwyn is the guilty party.
Critic Reviews for Dead Men Walk
All Critics (2) | Fresh (0) | Rotten (2)
Has a few bright spots, such as a campy Zucco rising from the dead to chant a black arts mantra.
It all fizzles under lackluster direction, a story that drags, and a conflict that ultimately just isn't that interesting, let alone frightening.
Audience Reviews for Dead Men Walk
½
A student of the black arts returns from the dead as an overenunciating vampire. Dual roles from George Zucco can't save this impoverished Poverty Row DRACULA ripoff (Dwight Frye even plays a watered down version of Renfield).
Dead Men Walk Quotes
There are no approved quotes yet for this movie.