Dead Mine
(2012)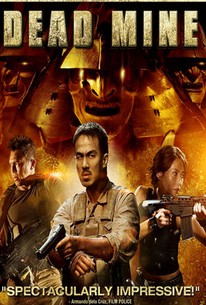 AUDIENCE SCORE
Critic Consensus: No consensus yet.
Movie Info
A group of treasure hunters seeking Yamashita's Gold get trapped in an abandoned Japanese bunker, and realize that their only hope for escape is to forge deeper into the darkness.
Critic Reviews for Dead Mine
All Critics (1) | Fresh (0) | Rotten (1)
Getting down and dirty with Dead Mine isn't the worst cinematic decision you can make, but this adventurer found his excursion a fruitless and unfulfilling one in the terms of finding hidden gems.
Audience Reviews for Dead Mine
½
Dead Mine is a derivative horror film that relies on a familiar plot that we've seen in the descent, which is a superior work of horror. This on the other hand is a pointless rehash that is void of originality. This movie is a predictable mess and is a horror film that should have been much better than this. Acting wise, the film has no standout performances and the actors a laughably bad as well. I really wanted to enjoy the film, but it is a clichéd affair that simply is too lazy to really deliver something worth checking out. The idea might have been interesting, and it is, but the execution is quite poor and it should have been a much more entertaining picture. Horror fans will surely be disappointed, or if you don't mind predictability, then you may want to see it. Be warned, this is quite similar to The Descent and it tries too hard at being a rip off. But in the end, it simply is a tiresome, poorly constructed and badly acted movie that doesn't offer anything new to fans of the genre. This is not a scary movie and it is a bland effort in terms of horror cinema and ranks up there as one of the worst horror films of the year. If you enjoy these films, pick it up, but for the rest of us, exercise caution in watching. Dead Mine is underwhelming and quite bad and like I've said, is predictable and ends being a poorly constructed movie that just doesn't work. If you love effective terror, you won't find it here and it fails at being a truly entertaining movie from start to finish.
Dead Mine Quotes
There are no approved quotes yet for this movie.