Dead of Night (Deathdream)
(1974)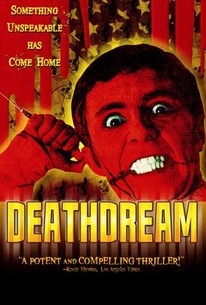 Dead of Night (Deathdream) Photos
Movie Info
A young Soldier is killed in the line of duty in Vietnam. That same night, the soldier returns home, brought back by his Mother's wishes that he "Don't Die"! Upon his Return, Andy sits in his room, refusing to see his friends or family, venturing out only at night. The Vampiric horror is secondary to the terror that comes from the disintegration of a typical American family.
Critic Reviews for Dead of Night (Deathdream)
Audience Reviews for Dead of Night (Deathdream)
Deathdream is a solid, original and creepy horror flick directed by Bob Clark who would later helm the pioneering slasher film, Black Christmas. Deathdream is a solid and effectively creepy horror film. Bob Clark assembles a great cast of actors here, and the story is unique, original and what makes it unique is the fact that the film was one of the first to include the Vietnam War as a subtext for its plot. As a whole, Deathdream is a solid, well crafted horror film. The acting makes this film what it is, and like Clark's other horror classic Black Christmas, Deathdream is full of atmospheric suspense and it works. This is one horror film that every serious horror fan should see. Deathdream like I said uses atmosphere to effectively build the horror, and in many cases that's the key ingredient on building and effective horror film. If a film doesn't have any atmosphere, then the film suffers, and the thrills are poor and it really cheapens the scares of the film. However, Bob Clark does a phenomenal job here at delivering a near flawless film, and the atmosphere is present and what elevates this film are the spectacular special effects by Tom Savini. Deathdream is a different type of zombie film, and it's a refreshing take on the usual zombie flicks that we've seen. Deathdream is unique in that respect. Bob Clark has made a wonderful horror film here. The film is disturbing, and chilling, and that's what makes horror films so much fun to watch in the first place. A classic must see film.
A creepy, effective and genuinely disturbing Canadian low-budget horror cult-classic, well-directed by the late Bob Clark. It concerns young Andy Brooks, intensely played by Richard Backus in a brilliant debut performance, whose simple blank stare at you could make your hair stand on end, he is a American soldier who was thought to have been killed in the of duty in Vietnam, his parents and sister even received a hand-delivered telegram from the Army to that fact, overcome by grief the family tries to go sleep, but later that night strange noises lead the family downstairs to see Andy standing silently in a dark corner of a room. suddenly despair turns into to joy, the father who is played superly by John Marley, informs his son that the Army had said he had been killed, "that my son was dead," Andy looks at his father and replies "I was!" Taking his answer as a joke they all have a big laugh, the family is just so overjoyed to have him back home, but not for long their joy turns into apprehension as they become aware that Andy is not the same, in fact he is a virtual stranger, who is completely emotionless, and does not eat, hardly talks, and his answers to questions are quick and short, he seems to be totally devoid of all humanity, but things really take a turn for the worse when some locals turn up brutally murdered and missing blood, because of his inhuman condition Andy must have blood in order to survive, for he is a Zombie vampire who cannot control his bloodlust. Special kudos must go to Lynn Carlin for her heartbreaking performance as Andy's devoted mother, who is in total denial of her son's monstrous state and horrific deeds, she is completely blinded by her love for him. A vastly underrated film that is atmospheric and gripping. Highly Recommended.
Danny Rovira
Super Reviewer
A spooky, atmospheric, fun and chilling B horror movie. Dead of Night is the perfect popcorn flick for a Halloween night viewing. Directed by Bob Clark, the man who brought us Black Christmas, Dead of Night tells an eerie tale of a deceased soldier who returns from Vietnam as a zombie. This movie was shot on a very low budget, and it definitely shows. But not to worry, cause the cheap look only works more toward it's advantage. Here we get all the spooky elements that make a horror movie so frighteningly fun...the sounds of howling winds, the cold and dark spooky atmosphere, the creepy and dramatic music in the background, and of course one hell of a scary ass lead character. Dead of Night is not gory, nor is it violent. There's nothing extreme about it. In fact, this movie is actually rated PG. But if that stops you from seeing it, then you're missing out. Dead of Night didn't need to be extreme. It was perfect just the way it was. This movie is more about mood and atmosphere than anything else. It aims to send shivers down your spine by building tension, and creeps up on you from it's dark and cold cinematography. Dead of Night is a true treat for any horror fan who longs a great ghost story. And like I said before, it's a perfect Halloween time movie! Alone in the dark, with a bowl of popcorn, is the only way Dead of Night should be viewed.
jd cryptic
Super Reviewer
Dead of Night (Deathdream) Quotes
There are no approved quotes yet for this movie.