The Dead One
(2007)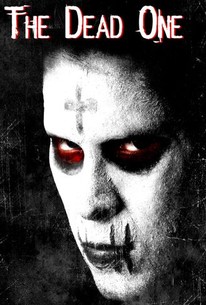 AUDIENCE SCORE
Critic Consensus: No consensus yet.
Movie Info
Wilmer Valderrama, Angie Cepeda, Joel David Moore, and Michael Parks star in director Brian Cox's adaptation of Javier Hernandez's gothic-flavored comic book about a young man gifted with a strange supernatural power, and determined to save the soul of the woman he loves. As a young orphan, Diego (Valderrama) met a mysterious Indian man who spoke Aztec and marked the boy with the sign of Tezcatlipoca before dropping dead and leaving the child to fend for himself in the desert. A decade later, Diego has settled in a Latino community in the southwestern United States. The love of Diego's life is a beautiful girl named Maria (Cepeda), the niece of a padre who resides at a local mission. To this day Diego holds a strange fascination with the Aztec gods, and on the Day of the Dead he paints himself up as a zombie mariachi before setting out to celebrate. On the way to the party, however, the mark on Diego's hand reappears and he is suddenly killed in a violent automobile accident. Upon awakening in the Aztec afterlife, Diego's heart is ripped out by Mictlantecuhtli and offered up to Tezcatlipoca. Now Tezcatlipoca retains full power over Diego's soul, and the apocalyptic prophecies of the Aztecs begin to come true as a cycle of sun showers commence. But with each sun shower a sacrifice must be made - a sacrifice of significant symbolic value. Unfortunately for Maria, her family is of the same Christian bloodline that once brought about the demise of the Aztecs, making them an ideal candidate for sacrifice as the sun showers commence. The one thing that Diego doesn't realize is that the mark left on him by that strange Indian so many years ago singled him out as the sacrificial priest charged with carrying out the sacrifices, and that his supernatural mission won't be completed until the last of Maria's bloodline has been offered up to the ancient gods. Now, in order to protect his love and prevent the apocalypse, Diego must turn against an ancient deity whose power and wisdom is beyond that of anything than the newly transformed sacrificial priest can even comprehend - much less hope to defeat.
Critic Reviews for The Dead One
Audience Reviews for The Dead One
½
An interesting story, but the movie itself just wasn't that great.
Jacob Palacio
Super Reviewer
It's a bit familiar to The Crow, but very different story based on the comic book. Wilmer Valderrama does a fine performance as the zombie superhero, but the action was average.
Dean McKenna
Super Reviewer
The Dead One Quotes
There are no approved quotes yet for this movie.