Dead Poets Society
(1989)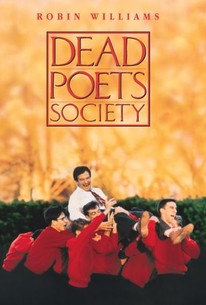 TOMATOMETER
AUDIENCE SCORE
Critic Consensus: Affecting performances from the young cast and a genuinely inspirational turn from Robin Williams grant Peter Weir's prep school drama top honors.
Dead Poets Society Videos
Dead Poets Society Photos
Movie Info
Robin Williams toned down his usually manic comic approach in this successful period drama. In 1959, the Welton Academy is a staid but well-respected prep school where education is a pragmatic and rather dull affair. Several of the students, however, have their thoughts on the learning process (and life itself) changed when a new teacher comes to the school. John Keating (Williams) is an unconventional educator who tears chapters of his textbooks and asks his students to stand on their desks to see the world from a new angle. Keating introduces his students to poetry, and his free-thinking attitude and the liberating philosophies of the authors he introduces to his class have a profound effect on his students, especially Todd (Ethan Hawke), who would like to be a writer; Neil (Robert Sean Leonard), who dreams of being an actor, despite the objections of his father; Knox (Josh Charles), a hopeless romantic; Steven (Allelon Ruggiero), an intellectual who learns to use his heart as well as his head; Charlie (Gale Hansen), who begins to lose his blasé attitude; unconventional Gerard (James Waterston); and practical Richard (Dylan Kussman). Keating urges his students to seize the day and live their lives boldly; but when this philosophy leads to an unexpected tragedy, headmaster Mr. Nolan (Norman Lloyd) fires Keating, and his students leap to his defense. Dead Poets Society was nominated for four Academy Awards, including Best Picture and Best Actor for Williams; it won one, for Tom Schulman's original screenplay.
Critic Reviews for Dead Poets Society
Audience Reviews for Dead Poets Society
A prime example of seeing a film at the right age and at the right time.
Set in a picturesque New England boys's prep school in the late 1950s, what we get here is an inspiring story of an unconventional young English teacher who aims to inspire his charges to challenge the confines of structure and seize the day, primarily through the lens of poetry. This was not the most original film at the time of its release, but if it's any consolation, many imitators followed in its wake. I think this is an inspiring and moving film.As the teacher, Robin Williams is restrained for almost all of it, but that's fine-it's one of his best performances. The other performances are also really good, particularly Robert Sean Leonard and Ethan Hawke. As this is a Peter Weir film, the cinematography and overall look of the film are just gorgeous. It is incredibly typical in terms of showcasing New England, but that doesn't really bother me. My only real gripes are how limited the poetry is (no mention of the Beats? in the late 50s? WHAT?) and how much of a downer this film is and becomes. Sometimes the music also seems a tad awkward, but it's mostly quite good. Overall, I do really like this. It's nothing new, but it's done well, has a nice message, and it does push for an appreciation of poetry, so that's cool too.
Chris Weber
Super Reviewer
Robin Williams was predominantly known for his hilarity and exuberant sense of fun before he finally started to show that he had acting chops. In 1987, he received an Oscar nomination for "Good Morning Vietnam" and then, two years later, followed that up with another Best Actor nomination for "Dead Poets Society". To this day, this still stands as one of his most appealing characters and performances. Todd Anderson (Ethan Hawke) is sent to a school where his popular older brother was valedictorian. It's here that he meets room-mate, Neil (Robert Sean Leonard) and many other bright young men, who have lots of potential but lack any real direction. That is, until they meet their new English teacher Professor John Keating (Robin Williams). He's one of the few who sees the potential in them and encourages them to embrace life. "Carpe Diem. Seize the day boys, make your lives extraordinary." These are the words that encapsulate this inspirational story about having a passion for and "sucking the marrow out of..." life. Professor Keating teaches in a very different and personal manner, quoting from such poets as Walt Whitman, Byron, Henry Thoreau and Robert Frost. He has a passion for what he teaches and shows a determination to instil that in his pupils. This passion also exudes onto the audience as we too, explore and enjoy the great writer's and poet's of our past and how rich and effective their words can be. Director Peter Weir draws on his own experiences of a boarding school education and Tom Schulman's script (partly based on his experiences at an all-boys preparatory school he attended and his professor there, Samuel F. Pickering Jr.) exposes the rigidity within the walls of such an environment. It's to their credit, though, that they manage to bring a sense of hope to education and the joy and expression that lies therein. Filled with many visual and verbal poetic moments, Weir's film is at times, both haunting and beautiful with gorgeous cinematography by John Seale and an effective music score by Maurice Jarre. There are also a whole host of very impressive performances from it's young cast - an excruciatingly shy Ethan Hawke, being a particular standout. However, it all rests on the shoulders of Williams; he's brilliant, with a very charismatic and heartfelt performance. He taps into his comic abilities, never over doing it and when he needs to deliver the dramatic weight, he does so with aplomb. You're able to warm to him and be completely swept up in his infectious enthusiasm, in turn, allowing you to fully identify with his impressionable students. At times the film can be emotionally manipulative and doesn't always work but, for the most part, it's very memorable and delivers one of the most uplifting movie endings I can remember. Never has a school desk been used so effectively. What more can you ask from a film that's able to instil thought, encourage an agreeing nod, raise a smile and even shed a tear? Weir, Williams and co. manage all of these things and for that reason, I give applause... "Oh Captain, my Captain". Mark Walker
Mark Walker
Super Reviewer
Dead Poets Society Quotes
| | |
| --- | --- |
| Neil Perry: | I went to the woods because I wanted to live deliberately. I wanted to live deep and suck out all the marrow of life. To put to rout all that was not life; and not, when I had come to die, discover that I had not lived. |
| | |
| --- | --- |
| John Keating: | Tune in. turn on, and drop dead. |
| John Keating: | Tune in, turn on, and drop dead. |
| | |
| --- | --- |
| John Keating: | Carpe diem. Seize the day, boys. Make your lives extraordinary. |
| | |
| --- | --- |
| Todd Anderson: | [standing on his desk] Oh captain, my captain. |