Dead Presidents
(1995)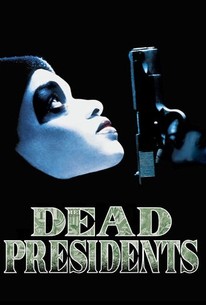 Movie Info
Albert Hughes and his brother Allen Hughes followed their striking debut Menace II Society with this ambitious look at the social and political lives of the African-American community in the late 1960s and early 1970s. Anthony Curtis (Larenz Tate) is a young man coming of age in the Bronx in 1968. Working two part-time jobs -- one as a milkman's helper and another for local numbers runner Kirby (Keith David) -- Anthony is torn between doing the right thing and trying to get by in a environment that offers few opportunities to young black men. After graduating from high school, Anthony decides to join the Marines, news that is not well-received by his parents, who want him to go to college, or his girlfriend Juanita (Rose Jackson), with whom Anthony recently lost his virginity. After serving a horrific tour of duty in Viet Nam with his friends Skip (Chris Tucker) and Jose (Freddy Rodriguez), Anthony finds himself back home in 1973, where Juanita has been raising the child he fathered before he shipped out, drugs and crime have crippled his community, and honest job prospects are practically nil. Eventually, Anthony falls in with Kirby, Skip, and Jose, who have teamed with Juanita's sister Delilah (N'Bushe Wright), a Black Power activist, and Cleon (Bokeem Woodbine), in a scheme to rob an armored truck taking worn greenbacks ("dead presidents") to a mint to be destroyed. Martin Sheen and Seymour Cassel appear unbilled in small roles. ~ Mark Deming, Rovi
Critic Reviews for Dead Presidents
Audience Reviews for Dead Presidents
[img]http://images.rottentomatoes.com/images/user/icons/icon14.gif[/img] A now cult film that was for many years wrongfully forgotten. The Hughes Brothers hit it out the park with the clash of realism and crime thriller elements that structured Dead Presidents, which I believe is a deeper and more affectionate film than it was ever given credit for when it first came out. There are many reasons why it never deserved to be slagged off. Firstly, if we wind the clocks back two years earlier the Brothers released "Menace II Society", everyone who loved movies found themselves completely knocked out by how good it was. The general consensus was that it was well directed, powerfully acted, sharply written and discussed important themes. Personally I see no creative differences between said film and Dead Presidents. As it unfolds you learn more about the characters and emotionally invest, it therein becomes incredibly gripping and emotionally fulfilling. Which is key to why the action works as well as it does and the final scenes have a greatest impact to anything seen earlier on. The performances are very well researched and at no point do you believe that any of the characters are being portrayed by actors, it nails believeability persuasion right on the head. The period setting and atmosphere is also captured perfectly, and the sense that our hero Anthony Curtis has literally nothing and no one to live for is realistic and makes for an interesting and equally awesome lead. It intelligently depicts the lives of Vietnam war veterans who upon returning home to the Bronx receive no compensation whatsoever for their physical and emotional struggle in combat. It does so in a fashion that is both hugely entertaining and completely unbiased. But what I really loved about this film is how the Hughes Brothers decide to play everything that happened completely straight while changing very little of the truth in it's story for dramatic purposes. I think the fact it was brutally realistic and changed little to work as a piece of cinema was the reason behind it's poor first impressions that ended up appalling the critics. But as a true story put on screen, whether it's structurally tight or not, it tells it in a way which is tense, funny and entertaining. It does have it's fair share of flaws, but there's no way of hiding that it deals with a touchy subject brilliantly.
Directors Cat
Super Reviewer
An intelligent update of blaxploitation flicks from the 1970s, Dead Presidents is the story of Anthony, a promising young student who upon his return from the Vietnam war finds his old neighbourhood completely transformed. Without a job, suffering post traumatic stress and unable to feed his young family he becomes embroiled in a plan to rob an armoured car. Unfairly appropriated into the slew of movies from the "hood" in the early 1990s, this film from the Hughes brothers (Menace II Society) is a clever blend of coming of age, Vietnam war and urban crime dramas. Larenz Tate heads a young cast who all acquit themselves well, although none can match the dominating presence of veteran character actor Keith David; even the normally excruciating Chris Tucker is pretty good here. It's full of memorable scenes taking a lot of stylistic cues from Goodfellas, particularly the gripping heist sequence and it's all complimented perfectly by a wonderful soundtrack of the best of American soul and funk of the period. I think it would have benefited from a non linear timeline to break up the episodic nature of the script and considering the power of the build up, it ends in something of a whimper; the Hughes brothers feeling the need to hammer home the "crime doesn't pay" message at the expense of a satisfying narrative conclusion. But considering the many disparate elements cleverly combined and some excellent set pieces, it's a strong and worthy action driven crime drama with a message.
It was a good movie and had some good drama and action. We can see some young actors here like Chris Tucker, Larenz Tate and Terrence Howard showing there work and bringing there usual style to the movies. This action drama was the second film by the movie-making twins, Albert and Allen Hughes. The two started their careers with the urban drama, Menace II Society, and this effort has a 70s urban setting. The style and skill of these talented filmmakers is immediately apparent and the script which they co-wrote with Michael Henry Brown has well-developed characters and great tension along with explosive action scenes framed with an engrossing small scale story. The acting is excellent, but the real star here is the Hughes direction which is cool and inspired. Larenz Tate is Anthony Curtis, a good-natured high school kid in 60s New York who is enjoying life with his girlfriend, Delilah and good friends, Skip (Chris Tucker in an early role) and Jose (Freddy Rodriguez) and running numbers for a local tough guy, Kirby (Keith David). Those days are not to last, however, as all three of the young friends end up in Vietnam. Following a fairly lengthy and well-done segment in the Nam, all three end up back in the old neighbourhood, where Anthony finds adjusting to civilian life difficult. Soon (and rather suddenly), the whole bunch of them are planning an armoured car heist, and ohhhh boy, what a heist it turns out to be.
Dead Presidents Quotes
| | |
| --- | --- |
| Lt. Dugan: | You hungry or something, Cleon? |
| Cleon: | Just like you, sir... I'm looking to collect a souvenir. |
| | |
| --- | --- |
| Anthony Curtis: | Life? The fuck he mean life? After all this shit I did for my motherfuckin' country? The fuck he talkin' about? Man, fuck you! (Throws a chair at the judge) |
| Anthony Curtis: | Life? The fuck he mean life? After all this shit I did for my motherfuckin' country? The fuck he talkin' about? |
| | |
| --- | --- |
| Cleon: | Your junkie ass really messed up out there. |
| Skip: | Don't blame me for your fuck ups. |
| Cleon: | I told Anthony I didn't want nothing to do with a crazy devil filled junkie! |