Dead Ringer
(1964)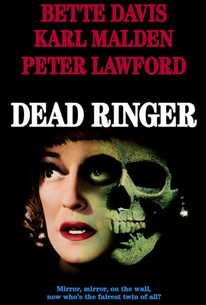 Movie Info
Portraying flip sides of the good/evil coin, two sisters haven't spoken to each other since fighting over a man long ago. One sister marries the man only after telling him the falsehood that she was pregnant by him. However, it is the other sister who proves her dominance of evil.
News & Interviews for Dead Ringer
Critic Reviews for Dead Ringer
Audience Reviews for Dead Ringer
Another in a string of Bette Davis' comeback movies of the sixties, "Dead Ringer" feels and looks recycled, but has all the mystery and charm of a Davis' film. What feels recycled ultimately boils down to the fact that many of the pieces of the plot are the same as other, better films. Davis had played identical twins earlier in the 1946 film "A Stolen Life" and Olivia de Havilland had basically played the same kind of role in a very similar film entitled "The Dark Mirror" from that same year. Murderous twins have always been an interesting thriller concept and noir staple, because of the extremes that siblings can present when they are given the chance to kill. Davis was reemerging in the public sphere after her Oscar nominated turn in "What Ever Happened to Baby Jane?". This film and another film of that decade put Davis back into the limelight and with good reason. She was the queen of the film noir as well as acted in dramatic turns in the thirties and forties. This film exploits her popularity to the fullest, as well as her newfound fame, and without her this film would not have had the same impact, and wouldn't have been enjoyable. Another great performance in this film comes from legendary actor Karl Malden. It's his curiosity into the death of his girlfriend and compassion towards her twin sister that really makes a statement about how a person changes when they murder someone, no matter how sweet or innocent they were beforehand. It seems obvious why Edie kills Margaret: because she is in debt, her sister has everything because she married her former beau, and Edie has had a hard, miserable life. Her impersonation of her sister isn't always spot on, and the ensuing story about her living day to day, trying to keep up the mirage she's concocted, doesn't do much except tell us about the social life of Margaret. The film doesn't say much about Edie as a character, or how she feels while deceiving everyone, including her boyfriend, which is especially damning. She is immediately demonized after killing her sister, and is oftentimes shown to be unreliable, calculating, and very bitter. This film only emphasizes Davis, and most of the film is exposition that includes her own musings. The peripheral characters are mostly slags and socialites, and except for Karl Malden, none of them give any insight into the character of Margaret, who remains a mystery except for what little insight Tony gives us, which is only that he exists. Only the ending tells us anything about either twin, gives us any moral, or any damning existential question.
Spencer S.
Super Reviewer
½
A twist ending is the cherry on top of this okay thriller spiced with performances by always solid method actor Karl Malden and gliding-by-on-my-looks pretty boy, Peter Lawford , but anchored by the grande dame w/o the self parody that tainted her later work. Look to see the difference between how Bette smooches Karl, her boyfriend, and Peter, her, uh, other boyfriend, its worth the admission price alone.
Kevin M. Williams
Super Reviewer
This is a cool thriller, Davis plays twins, and the rest of the cast is good too. I really liked this movie, it's thrilling.
Dead Ringer Quotes
| | |
| --- | --- |
| Margaret: | Money's no object. How much would you like? |
| Edith: | YOU HAVEN'T GOT THAT MUCH! Now Sit Down!! |
| Edith: | YOU HAVEN'T GOT THAT MUCH! Now Sit Down! |