Dead Snow (Død snø)
(2009)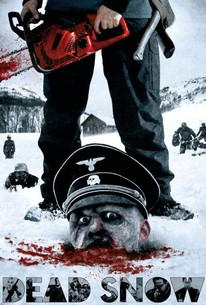 Dead Snow (Død snø) Photos
Movie Info
Eight medical students on a ski trip to Norway discover that Hitler's horrors live on when they come face to face with a battalion of undead Nazi soldiers intent on devouring anyone unfortunate enough to wander into the remote mountains where they were once sent to die. It's Easter vacation, and what better way to spend the break than skiing down the isolated hills just outside of Øksfjord, Norway? After packing their cars with enough beer and ski equipment to ensure that a good time will be had by all, the students set out for their destination and prepare for a relaxing snowbound getaway. Shortly after arriving at their remote cabin, however, the students receive an unexpected visit from a rather suspicious hiker. According to their shady visitor, the Nazis occupied this territory during World War II. In the aftermath of their brutal raping and pillaging, the locals revolted, driving the few surviving Nazi soldiers -- including their iron-fisted leader, Colonol Herzog -- deep into the hills. Neither the soldiers nor their leader were ever seen again. Everyone in town assumed that they simply froze to death. But there's something stirring out there in the trees, and it won't be long until the unsuspecting students discover how the story really ends. ~ Jason Buchanan, Rovi
News & Interviews for Dead Snow (Død snø)
Critic Reviews for Dead Snow (Død snø)
Audience Reviews for Dead Snow (Død snø)
A Norwegian blood-drenched horror movie that really wants to be gross, and gross it is. Nazi zombies, probably the only original thing in a film so full of clichés and devoid of tension, which wouldn't be that bad if the comedy weren't taken so absolutely seriously by the characters.
Carlos Magalhães
Super Reviewer
As a concept, "Dead Snow" sounds like a pretty weird B-movie that's cheesy, over-the-top horror. In reality, this Swedish horror film is much more than meets the eye. Besides it being in agreeably good taste, it is also "Cabin Fever" type good. It knows exactly what it is from the very beginning, and revels in its own absurdity, and gory lovability. It takes its influences very seriously, especially paying homage to the best cabin the woods trope, "The Evil Dead." Adding zombie Nazis doesn't take away from the tried and true formula, and enhances it with a plethora of bloodlust, gore, and revulsion from the eight trapped medical students staying in that deathtrap of a cabin. Though the true nature of the Nazis' intent is not clear, they're the singular evil governing body of history, and their inclusion in an otherwise methodical horror film makes it all the better. They have many things going for them as the villains of the story: 1) they're zombies, so there need not be motive for their senseless attacks. 2) They're Nazis, so even if they're questionable monsters, they already are monsters in real life, and 3) the lingering social injustices of the Nazi regime, inflicting itself on Sweden, makes this a taboo subject. It's not altogether more frightening because these big bumbling corpses are Nazis, but it does lend to some very frightening visuals. Their leader is so bloated and his skin so greenish black, that the very image of him alongside a snow dune, with his legions of fighters, is enough to be terrifying all on its own. I think the film tries to make up for its implicit silliness by being over-the-top gory, but at the same time that is part of the charm of a cabin in the woods genre horror film. The characters are pretty bland, and how they're all friends isn't really clear, but their intricate deaths make for a good watch, and the violence starts pretty fast, which is forgiving. Overall, this is a good addition to the zombie genre, even if it is a little too gun ho at times.
Spencer S.
Super Reviewer
½
[img]http://images.rottentomatoes.com/images/user/icons/icon14.gif[/img] The plot of Dead Snow is essentially Nazi zombies rise from the dead and instantly begin painting the blood and guts of college students over the pure white Norwegian snow. This is a horror-comedy that just kept a smile on my face all the way through, additionally made me laugh a small number of times. Some of the film was excellent but sometimes it gets a little bit repetitive, nevertheless it succeeds at being charismatic and likable. The acting for the most part is wooden as the cabin the characters take refuge in but the physical and hefty gore effects made up for the fact it doesn't cover any new ground. It might have been a terrible "Shaun of the Dead" rip off, but I seriously doubt any filmmaker will come close to the genius of Edgar Wright's instant classic any time soon. One can neither take this as a horror nor a comedy, it sort of mixes both but is somewhat great at being neither. The technical brilliance fills this ignorable void until it decides to kick itself back into place again. Although it lacks haunting atmospherics and exceptional camerawork, it has splatter and outrageous killing to fill buckets, and that is what the gorehound audience for this film will expect. I am part of it, and let me tell you from that perspective, I was very satisfied with it. At times weak, but as a whole its camply good grindhouse fun.
Directors Cat
Super Reviewer
Dead Snow (Død snø) Quotes