Dead Snow 2: Red vs. Dead (Død snø 2)
(2014)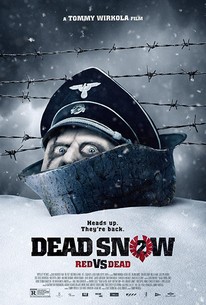 TOMATOMETER
AUDIENCE SCORE
Critic Consensus: Dead Snow 2: Red vs. Dead expands the original's canvas without sacrificing any of its bloody fun, adding up to a sequel that fans of the first are bound to enjoy.
Dead Snow 2: Red vs. Dead (Død snø 2) Photos
Movie Info
Martin (Vegar Hoel) hasn't had the best vacation. He accidentally killed his girlfriend with an axe. He cut his own arm off with a chainsaw. And his friends STILL got devoured by a battalion of Nazi Zombies. This morning, he woke up in a hospital bed with a new arm - but it's a super-powered Zombie arm that wants to kill him, and anyone else it can reach. Martin's PISSED. And with the help of his new Zombie Squad pals (Martin Starr, Jocelyn DeBoer, Ingrid Haas), he's gonna deliver some payback to Colonel Herzog and his precious Nazi gold - by raising an undead army of his own. (C) Well Go
News & Interviews for Dead Snow 2: Red vs. Dead (Død snø 2)
Critic Reviews for Dead Snow 2: Red vs. Dead (Død snø 2)
Audience Reviews for Dead Snow 2: Red vs. Dead (Død snø 2)
½
Look, I understand this film's reason for, instead of the dialogue being in Norwegian, it's in full English. This, and the integration of American actors, probably made it easier for this film to find distribution on this side of the world, which is strange considering that the original film was already kind of a cult hit here. Make it easier to get the budget necessary to tell the story that they wanted to tell. So, in spite of some of these attempts to appease a different audience than the first film, which some might look down upon, this movie is vastly superior in almost every way to the first film. This may actually be one of the best horror sequels in years, maybe ever. And I realize that may not actually be saying a lot considering that horror sequels, almost as a general rule, have always been pretty bad. There's a couple of exceptions, with the most obvious one being Evil Dead 2, which the first Dead Snow was somewhat inspired by, and maybe the first Rec sequel. But in the case of Rec 2, it was still a step down from the incredible first film, it didn't improve on what came before it on almost ANY level. This film does, so therefore, to me, it is probably one of the best horror sequels in recent memory. The film just looks much better as a whole, you can notice the difference from one film to the other. You can see that the first one was a smaller budget, a small team, and this one is clearly considerably bigger and covers far more ground than the first Dead Snow. Another thing is the fact that this sequel feels like it has its own identity far more than the first one. While I certainly had fun watching Dead Snow, it honestly felt like a movie I had seen several times before. There was nothing really refreshing about it. It had enthusiasm and it had energy, but it was still something that I felt I had seen before. This one, on the other hand, clearly sees Tommy Wirkola, director and writer of the film, coming into his own as a horror filmmaker with a very clever and witty writing style. While Dead Snow 2 still definitely deals in camp, but I think the dialogue has taken a significant step up from the first film. There's some very witty lines here and some ridiculous, yet hilarious, moments in this film. This is an openly funny film as opposed to the first one, where it was meant to be campy as opposed to a full-out horror-comedy. The film is very well-cast with very likable and funny characters like the Gunga, the lieutenant who has a thing for seagulls, not in that way, just in general a lot of the conversations he has ends up referencing seagulls in one way or another. Gunga most definitely steals the show here, but that's nothing when you take into consideration that every character in the film has a little something that they bring to the table in terms of entertainment. It's just that Gunga has some of the crazier moments and lines in the film. The only thing I didn't really like were the forced Star Wars references by Monica. I think her and Blake, the other female character in the film, are definitely welcome additions to the series, as both as very funny, but this part of the character did nothing for me. It just felt like the requisite geek character and Star Wars is easy geek fodder. It's probably the only thing about the script/movie that I really didn't like. Some of it works, but it misses the mark, massively, in others. That's honestly my only complaint because when you get right down to it, Dead Snow 2 is an absolute blast from beginning to end. It's not like the first film, where you had to wait until the last act, where shit got really crazy. This one is a blast from beginning to end. There's no waiting period before it gets awesome. This is the type of film that I could see myself watching at least once every year. I won't do it, but I can see myself doing it. And that's not something I could say about many movies, and this includes non-horror films. If you loved the first film, then there's absolutely no reason you wouldn't like this. And even if you didn't watch the first film, it's done in such a way where you don't need to watch it in order to enjoy it. I may not have given it 4 stars, but this is a great horror movie. Highly recommended.
Jesse Ortega
Super Reviewer
Not as 'good' as the first film, this sequel significantly ups the gore quotient and injects a whole lot more juvenile humour.
Daniel Parsons
Super Reviewer
½
Beyond expectation. I can see a franchise coming along. The sequel picks up from where the first film left, Martin now became accused of the murder of his friends, no one would believe his Nazi Zombie story, even worse, he now has a zombie arm attached to him. Desperate, he enlisted the help of a group of American nerds and stumbled upon a gay museum receptionist, together they must wake up the Communist Zombies who died in a near by town to start a Zombie WWII. The sequel is a much needed improvement to the first film, lots more gore, Troma styled humour and tongue in cheeck hilarity. It's everything a zombie fan can dream of. I cracked up so much, I love the writers. The acting was pretty average but the gore and witty humour made up for it. I have even more respect for Norwegian horror films, please keep them coming. A must see.
Sylvester Kuo
Super Reviewer
Dead Snow 2: Red vs. Dead (Død snø 2) Quotes
There are no approved quotes yet for this movie.