Dead Within
(2014)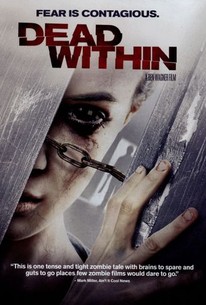 AUDIENCE SCORE
Critic Consensus: No consensus yet.
Movie Info
Six months after the outbreak, a man and woman have survived by isolating themselves in a remote cabin. Starved for resources, they must confront the horrors that threaten them from outside and from within.
Critic Reviews for Dead Within
All Critics (2) | Fresh (2) | Rotten (0)
A compelling, and maddening bit of zombie apocalypse fodder that examines the psyche of the survivor...
Ben Wagner's cabin-fever creation is a sharply nuanced survivor's tale that leaves the viewer to disentangle the genre tropes from their underlying triggers, and the reality from its delirious breakdown.
Audience Reviews for Dead Within
Let's just say that this film's title isn't so much of a warning as it is a spoiler. With that said, I think this is quite a good psychological horror film. It might not offer anything that is wholly unique or inventive, but it does provide an interesting story with plenty of suspense and mystery building up to its climax. But, really, there's only so much you can do when you know exactly where the film is heading right from the start giving what its name is and what its poster is. But those are minor issues. The film's story focuses on a married couple who have isolated themselves in a cabin and the struggles they face to survive the elements while they're also starving for the resources they once took for granted. Mike goes out every day and leaves Kim all alone in the cabin for hours on end. It has been six months since the outbreak started so, obviously, Kim's psyche starts to deteriorate the longer she's stuck inside this very small cabin. Cabin fever is starting to take its toll and the film focuses completely on that as you get to see Kim being more and more affected by not being able to go out. At first you suspect it's because Mike is up to something, or there actually isn't even an outbreak and Mike just wants to keep Kim under his control, but as the film progresses, it's obvious that Kim's psyche is playing tricks on her. She sees things that aren't there, has conversations with people that aren't there as well, she hallucinates, etc, etc. Again, it's stuff that you've definitely seen before, and it's not like this is the best version of this story, but it is still compelling, at least in my opinion. I think the fact that the film takes place in one location for most of its duration, the last few minutes or so take place on the outside, might bother some people. Like it might come across as a clever way to disguise the fact that you didn't have the biggest of budgets. But, for this kind of story, the claustrophobic isolation of a remote cabin works best for a film that's all about the character's psyche breaking down. I don't think you can pull it off as effectively if Kim and Mike were moving from place to place. I suppose you could if what's making Kim act the way she is is that she's also infected and not the constant isolation from the world. But I find that it works for this film, they get a lot of mileage out of this. The film also doesn't overstay its welcome, it's a film that knows its limitations and its not gonna stretch its script thin. I can appreciate that as someone who always complains about many horror films not having enough interesting ideas to justify its running time, so props for that. I don't think this is the type of film that will convince non-horror fans to give the genre a try, but I think it offers a compelling enough story with good acting, which is definitely needed in this type of story where it's all about the psychological effects. Might not be everyone's cup of tea, but I thought this was a good horror movie.
Jesse Ortega
Super Reviewer
Dead Within Quotes
There are no approved quotes yet for this movie.