The Dead Zone
(1983)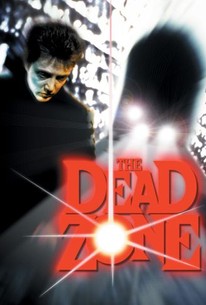 TOMATOMETER
AUDIENCE SCORE
Critic Consensus: The Dead Zone combines taut direction from David Cronenberg and and a rich performance from Christopher Walken to create one of the strongest Stephen King adaptations.
Movie Info
A man awakens from a coma to discover he has a psychic detective ability.
News & Interviews for The Dead Zone
Critic Reviews for The Dead Zone
Audience Reviews for The Dead Zone
With a strong performance by Christopher Walken and an intriguing story that unfolds without hurry, Cronenberg's film is an entertaining Stephen King adaptation that knows how to hold our attention by offering us always more and more surprises and new twists at the right moments.
Carlos Magalhães
Super Reviewer
Johnny Smith:  If you could go back in time to Germany, before Hitler came to power, knowing what you know now, would you kill him? "In his mind, he has the power to see the future. In his hand, he has the power to change it." The Dead Zone is one of many films to populate the genre of Stephen King adaptations. These films end up normally being hit or miss. We've had our share of great movies adapted from King's books, but we've also had a huge amount of terrible King adaptions. The Dead Zone is one that falls into the top category, and is one of the top King adaptions of all-time. It isn't my favorite, but it is a great movie with excellent direction from David Cronenberg and a performance from Christopher Walken that goes down as my personal favorite of his. Johnny is a school teacher, who is close to marrying his girlfriend. After a date one night, he decides to go home instead of staying the night with his girl. There's a storm going on, which causes a semi to crash, leaving part of the truck in the road. Before he can realize it is there, Johnny crashes into the truck. Five years later he awakes from a coma to find out that he hasn't only lost five years, but his girl and job too. He also gained something through it all; he had the ability to see the past and future events that will surround a person when he touches their hand.  There's a lot to love about The Dead Zone. From Walken as a psychic to Martin Sheen as a candidate running for the senate, the movie doesn't miss the mark much. The development of Johnny is extremely well done, as are the changing situations in the story. The story from King may be one of the smartest of his career, and Cronenberg found the genius in the story and let it out perfectly. The Dead Zone is a classic film, that I myself consider as a must watch. It's an early film in Cronenberg's filmography, but of all the movies I have seen from him; this would have to be my favorite. It's one of those thrillers I could watch over and over again. The story is just so intriguing, and Cronenberg and Walken almost flawlessly continue to suck the viewer in deeper and deeper. 
Melvin White
Super Reviewer
Based on a novel by Stephen King, this is easily one of David Cronenberg's more straightforward and accessible films. Christopher Walken stars as Johnny Smith- a schoolteacher whose live goes to pieces after a terrible car accident leaves him in a coma for five years. When he wakes up he discovers that he has the ability to see someone's future simply by touching their hand. It could be a blessing, or a curse, but either way, Johnny's new ability definitely gives him a new lease on life, for better...or worse. Yeah, this might be just a studio gig for Cronenberg, but I think it's still a pretty solid and entertaining thriller. It's more toned down than most of his work, but he still manages to gt in some effectively creepy and unsettling moments here and there. Plus, Walken is great. The seeds for his creepiness were sowed with The Deer Hunter and Annie Hall, but they come to full bloom here. Tom Skerritt, Martin Sheen, Brooke Adams and Herbert Lom all give some really good supporting performances, but this is clearly Walken's show. The cinematography and music are great, I like the way they portray Johnny's visions, and, though this might be a fairly conventional film, it's still quite a fun thrill ride.
Chris Weber
Super Reviewer
The Dead Zone Quotes
| | |
| --- | --- |
| Johnny Smith: | As he was a bachelor, and in nobody's debt, nobody troubled his head any more about him... |
| | |
| --- | --- |
| Greg Stillson: | The missiles are flying! Hallelujah!! |
| Greg Stillson: | The missiles are flying! Hallelujah! |
| | |
| --- | --- |
| Greg Stillson: | Now put your hand on the god-damned scanner, or I'll hack it off and put it on for you! |
| | |
| --- | --- |
| Johnny Smith: | "The ICE-- Is gonna BREAK!" |
| Johnny Smith: | The ICE-- Is gonna BREAK! |