Deadline at Dawn
(1946)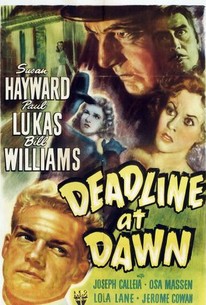 AUDIENCE SCORE
Critic Consensus: No consensus yet.
Movie Info
Deadline at Dawn represented not only the sole film directorial effort of Broadway's Harold Clurman, but also the only cinematic collaboration between Clurman and his former Group Theatre associate, screenwriter Clifford Odets. While on shore leave in New York, sailor Alex (Bill Williams) is slipped a doped-up drink by B-girl Edna (Lola Lane). When he awakens, Alex discovers that she has been murdered. Though he believes that he's the killer, our hero is talked into locating the actual miscreant by philosophical cab driver gus (Paul Lukas) and nightclub dancer June (Susan Hayward). Adapted from a novel by Cornell Woolrich, Deadline at Dawn leans towards pretentiousness at times, but is redeemed by the no-nonsense performance by Susan Hayward.
Critic Reviews for Deadline at Dawn
All Critics (2) | Fresh (2) | Rotten (0)
Though enjoyable by virtue of its distorted mise-en-scene, affection for NYC characters and its misplaced dialogue, this is not art but run-of-the-mill film noir.
Audience Reviews for Deadline at Dawn
This film I found as part of the Film Noir Collection Volume 5 which can be found on Amazon. I was blown away by not only the storyline but also the acting. Paul Lukas stole the stage when he appeared in this movie. Bill Williams plays the I'm from the country and don't know squat about life Sailor, who wakes up in a newsstand after a all night drunk with 1400 dollars in his pocket, he goes to return to the girl he took it from to find her dead. He meets a B Girl (Susan Hayward)m who gets tangled up in his story, they try to find the killer, as they do more and more people are weaved into this story. The ending will blow you away, as it did me. I will not give it away here. This is the most enjoyable film, worth every minute of your time, It comes as a Double with Backfire another go film. Can believe I'm giving a old B&W Film 5 Stars.
Bruce Bruce
Super Reviewer
Terrifically gritty noir. Susan, still a B actress at the time took a big step forward with this little gem, one of the great overlooked noirs. She's tough and no nonsense but caring. She also looks phenomenal considering she had given birth to twin boys just before making this. Bill Williams is just right as the naive gob and Paul Lukas adds great support as a cabbie who lends a helping hand. The film is also full of wonderful touches, Susan's snappy no-nonsense talk, the incidental characters the leads come across and the sets and set-ups of the shots with intriguing little details just randomly placed in the background. Well worth seeking out.
Deadline at Dawn Quotes
There are no approved quotes yet for this movie.