Deadly End
(2006)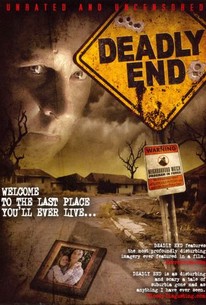 AUDIENCE SCORE
Critic Consensus: No consensus yet.
Movie Info
The tree-lined streets of a picturesque suburban neighborhood cast a dark shadow over a deadly secret in this morbid tale of unhinged madness and vile self-mutilation. When Bob and Wendi Peterson purchased their dream home on Wormwood Drive, they thought they were taking the first step towards a wonderful new life. Their new neighbor, Adrien Trumbull, came by to welcome them with a friendly smile and a box of chocolates, and it seemed as if the couple was now as far away from the crime-ridden streets of the big city as possible. But the madness doesn't stop at the city limits, it has a strange way of corrupting even the most serine of surroundings as well. Now, as Bob and Wendi begin to uncover the terrifying truth about their outwardly smiling neighbor Adrien, they quickly discover how useless the Neighborhood Watch program is when the one you fear most lives just next door.
Critic Reviews for Deadly End
There are no critic reviews yet for Deadly End. Keep checking Rotten Tomatoes for updates!
Audience Reviews for Deadly End
½
Prerry Funny Slasher Film, Lets See the wife gets a bouquet of Poision Oak think its flowers, they get posioned, all by the guy next door, hey when he was in my ice box at 4 am I think I would have blow him away then. Pretty Graphic. A rental, Add it to my collection, I think not unless it finds itself in the $3.00 Bin at a pawn shop.
Bruce Bruce
Super Reviewer
½
I found this twisted film to be boring & stupid with some annoying characters but it has few gross-out moments,specially tours the end some gore effects came through that were disgusting.The self-mutilation scenes were so realistic & repulsive,for a low budget film the effects were well done & impressive.Unfortunately can't say too much positive things about the film or the performances.This film wasn't my cup of tea but it might appeal to a lot of gore-hounds.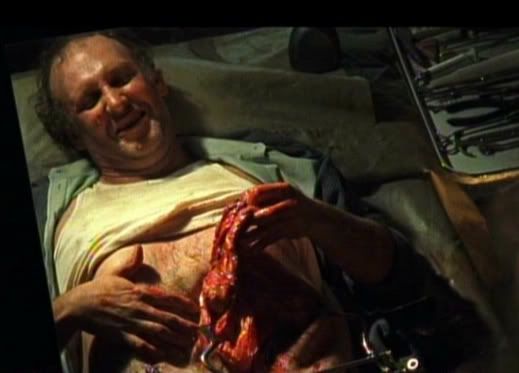 Sure it's repulsive and mean spirited, but our protaganists are just so willing to get offed that it is hard to watch. I know the writer obviously had the husband go gun shopping and form a neighborhood watch to seem pro-active, but once those fail, he seems to accept his fate quite willingly almost. Also, it's great to see John Ennis again, I miss Mr. Show, though the whole office story is left in the dust as well. Too bad. Still, the film is decent enough to merit a watch just for the gross out factor.
Christopher Brown
Super Reviewer
Deadly End Quotes
There are no approved quotes yet for this movie.