Deadly Friend
(1986)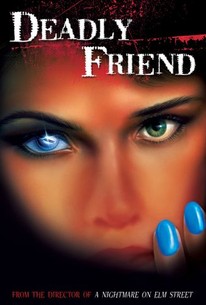 Movie Info
Certainly never lauded as one of the best of horrormeister Craven's offerings, there are still enough moments of shock and fright in this film to keep an audience scared. Whiz-kid Paul (Matthew Laborteaux) moves into a new neighborhood with his mother Jeannie (Anne Twomey) and brings along the robot he built with his own two hands, Bee Bee. Bee Bee is programmed to speak and helps defend the local kids against some bullies that have been a problem. This gets Paul new friends, including the girl next door, Samantha (Kristy Swanson), and then several things happen at once. First Bee Bee is seriously sent into oblivion by a peeved old lady who is not into robotics. Then Samantha's abusive, alcoholic father goes over the edge and she ends up in the hospital. She is brain-dead but her physical body is not damaged. Bee Bee is body-dead, but his brain is not damaged. The answer to Paul's desire to save Samantha seems to have an obvious solution, but the results are a killer.
News & Interviews for Deadly Friend
Critic Reviews for Deadly Friend
Audience Reviews for Deadly Friend
½
I'm sorry, I just can't hate something this cheesy, I don't have it in me. The stupid plot, the awful acting (Kristy Swanson's hands are hilarious) and everything laughable about it just adds to the charm for me.
Quinto Wallight
Super Reviewer
This one that i categorize as my own kinda cheese! U know movies that are over the top cheesy but we love em anyways for some unknown reason? I'm pretty sure however that my main reason here is for Kristy Swanson!
½
Unbelivable, cheesy, tragic and fascinating! An electronics geek (Matthew Laborteaux from "Little House on the Prairie") tries to bring his deceased girlfriend (Kristy Swanson) back to life with parts from his robot project. The life-giving experiment turns her into a monstrous creation to be dealt with named "Bee-Bee". Gosh, this movie has a silly Frankenstein-esque premise, which delivers a cool 80's horror experience. Wes Craven actually directed this post-Elmstreet, so it deserves some attention.
Lafe Fredbjornson
Super Reviewer
Deadly Friend Quotes
| | |
| --- | --- |
| Paul: | Sam. Listen to me. We can get help. Do you know Dr. Johanson? He can help us. Sam, please. |
| | |
| --- | --- |
| Paul: | Now we see if it works. |
| Tom: | You're kidding, right? |
| | |
| --- | --- |
| Harry: | Goddamn kid. I told her to clean up her stuff off the stairs. |
| | |
| --- | --- |
| Harry: | You lying little bitch! Okay, come on now. None of this shit. You get the hell up. Samantha. I'm not joking. You wanna know what real trouble is? I mean it. You get the hell up and get in your room. |